Internet Security: At Home and at Work
Wednesday, September 30, 2015 1:43 PM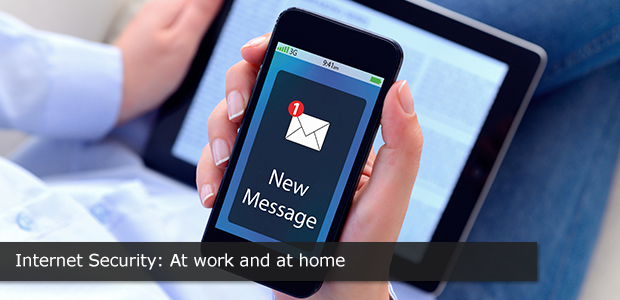 I admit it; my job doesn't stop when I go home.  As Chief Information Security Officer for AHS, I make sure all of us do what we can to protect the confidential and often very sensitive information of our patients, their families and our staff.   I work to ensure our employees are not sharing their passwords, leaving work computers in their cars where they might get stolen, or responding to suspicious emails from someone trying to steal private information. 
 
As a husband and father, I often find myself acting as a sort of Chief Information Security Officer in our household as well.   Protecting my family's private information is also very important to me.   I find many of the things we do at AHS to protect information online in the cyber world can also be done at home. 
 
Passwords
For example at AHS, staff passwords are reset on a regular basis.  I encourage my wife and my kids also to change their passwords regularly for any applications (apps) that contain personal or financial information. 
As we do at AHS, I also get my family to use strong passwords with a combination of symbols, numbers and upper and lower case letters.  And please don't put your password on a sticky note and place it on your computer screen, your desk, or night stand. Thieves love that.  
 
Phishing scams
Healthcare organizations are often targeted by phishing scams - but I find a lot of these on my personal e-mail account at home as well.  You know those e-mails that look like you've won something, are from a reputable company you use or government department, and they ask you to fill out a form with some private information.
Less sophisticated scams will send bulk e-mails and ask you to download some information that contains viruses.   These phishing scams can cause a lot of damage to your computer or compromise your security and potentially even cause your identity to be stolen.  If you think you may have mistakenly opened one, change your password right away.
 
If you receive any text message or email you find suspicious:
- Do not respond to the sender.
- Do not click on any links or open any attachments.
- Delete it from your inbox.
 
These are a few tips I thought I'd share with you.  These reminders are also timely as October happens to be AHS Security Awareness month. However, as I like to remind everyone at work and home, cyber security is something we need to be aware of every day.
What are you doing to keep your information safe online?