The Importance of Patient and Family Centred Care
Monday, October 5, 2015 2:39 PM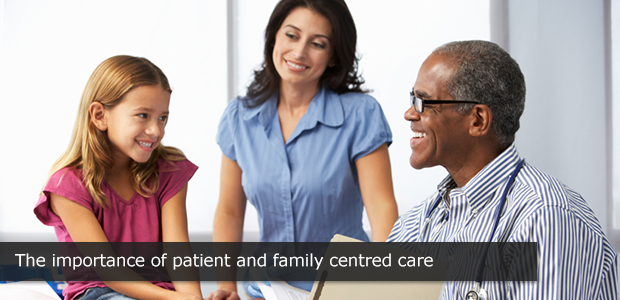 Before I share my story, let me tell you who I was. I was a 45 year old woman, a newlywed and proud mother of three amazing children, and step-mom to four more. I had worked full-time as an Administrative Assistant at an Edmonton school for over twenty years. I loved what I did and truly was at the top of my game.
One minute I was speaking to my secretary at work about transportation, and the next she was speaking a different language. I was very confused. I got up, walked past her and drove to the hospital (not the most intelligent thing I have ever done).
It turns out I had a stroke.
After a week of treatment I was released and went home not really sure of anything except I have to go back to work.  For me, this was such a time of fear. I knew my world had changed, as did my thinking, but could not explain just how much, or why.  You see, I was misdiagnosed and was not properly diagnosed until later.  I wasn't told anything except this could be a type of severe migraine.  I wish they had taken the time to ask more questions and really investigate. They may have been able to help prevent this from happening again.
On my first day back at work, I was driving to the school and my vision slowly left me like a veil was being put over my head. I managed to call my husband who called an ambulance and back to the hospital I went. Stroke number two.
My world caved in on me faster than I could have ever imagined. Tasks that used to be so simple became difficult and challenging. In a moment, my memory wiped like a hard drive being erased. As time went on, emotions and frustration were at an all- time high for both me and my family.
 
After some research and recommendations from friends and health-care professionals, I enrolled in what I consider lifesaving classes to help me deal with deficits and disabilities. I also received counselling, which helped me walk this long path to discovery. I started attending the Networks Activity Centre, a place to socialize with individuals who understood what it was like to go through my situation. Life was looking up for me.
 
One fateful day in October of 2010, I was at the Networks Activity Centre and my speech began to slur and weakness set in—stroke #3. An ambulance was called immediately and TPA (a drug used in stroke treatment) was administered. I began the road back to recovery, again.
But there was a difference this time: because of what happened before, I understood what was happening now. I really felt heard by health professionals and they kept me informed each step of the way in my care.  That made huge positive difference in the care received.  I believe this happened because my support team was at my side 100% of the time and would not accept not getting answers.  They were my voice!   Nor was I left alone facing the fears of being locked in my own body. This is why it is so important that we practice patient and family centred care. 
Not a day goes by that I don't have the fleeting thought…what if I have another stroke? But I am strong, feeling healthy and committed to making a difference in the world of stroke and cardiovascular health by sharing my story and working with the Strategic Clinical Networks.
At AHS, patients and their families are at the centre of everything we do and every decision we make. We are proud to celebrate this during Patient & Family Centred Care (PFCC) Week across Alberta from October 5 – 9, 2015. (For more on the role of Patient Advisors, visit: http://www.albertahealthservices.ca/11233.asp
During Patient and Family Centred Care week, we encourage you to share your health care story. We want to know why patient and family centred care is important to you and how it made a positive difference in your car. You can share your story via #whatsyourstory on Facebook and Twitter or go to the "Your Voice" web page at http://www.albertahealthservices.ca/9020.asp.