Empowering Families at the Bedside
Friday, October 9, 2015 11:55 AM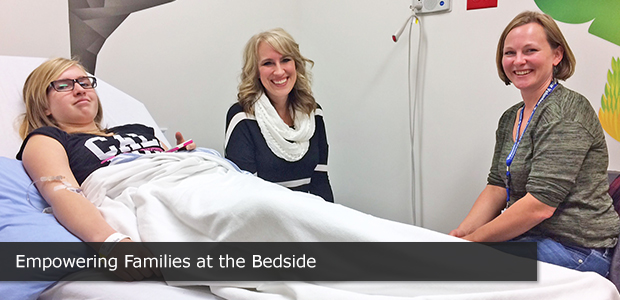 "It's so nice to talk to someone who knows what this is like."
- parent of a child at the Stollery Children's Hospital
Having a child in hospital can be a very stressful and emotional time for family members. Often families find it enormously helpful to speak with someone who has had similar experiences to their own. At the Stollery Children's Hospital in Edmonton families are connecting in just such a way on one inpatient medicine unit.

Results of a 2014 Family Centred Care Survey at the hospital indicated that inpatient families wanted to connect with other families, and wanted to find a better way to receive information about the hospital and the hospital system. This information plus a grant from the Canadian Foundation for Health Improvement enabled the Family Bedside Orientation program to be born.

This one of a kind program brings trained volunteer family members who have previously all had experience with their children in the hospital back to meet with current inpatient families.

Families are visited bedside so they don't have to leave their children, and Family Mentors meet them where they are on their journey. Some families who are new to the hospital have all sorts of questions. Volunteers share information with them about being involved in their child's care, using the bedside whiteboards, following hand hygiene protocols, knowing their child's medications and reinforce the importance of keeping their child's ID bracelet on.

Other families who have been there for a while just want to talk and Family Mentors are there to listen.
"I share my experience when it is appropriate but try to let the family's story guide the visit." – Family Mentor.

Since December 2014, nearly 165 families have been visited by one of five volunteers. Some families have requested repeat visits. Recent evaluations show that 82% of families have rated their visit as either very important or extremely important to their stay in hospital.

"I can see that families have really enjoyed it and you can tell the visits are longer, they seem to be getting stuff off their chests." – unit nursing staff.

The success of the program has been very encouraging and plans are in the works to expand the program to other units of the hospital.