Two Dips and Five Dippers
Friday, December 11, 2015 11:11 AM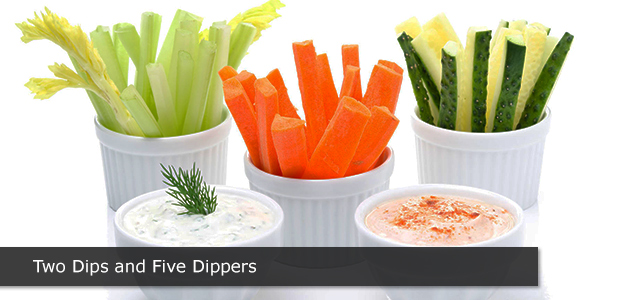 Looking for a quick and easy appetizer? Try making these two dips at home and serving them with a variety of vegetables and whole grain pitas. A healthy dish that is sure to impress your guests!
 Ingredients:
Dip 1: Tzatziki
3 medium Cucumbers 3 medium
½ tsp Salt 2 mL
2 cups Plain 1% M.F. yogurt 500 mL
2-3 cloves Garlic, minced 2-3 cloves
1 Tbsp Lemon juice 15 mL
¼ tsp Dried mint 1 mL
¼ tsp Dried dill 1 mL
¼ tsp Pepper 1 mL
Dip 2: Italian Bean Dip
1 – 14 ounce can Cannellini beans, drained and rinsed 1 – 398 mL can
2 cloves Garlic 2 cloves
2 Tbsp Fresh lemon juice 30 mL
1 Zest of one lemon 1
2 Tbsp Olive oil 30 mL
¼ cup Fresh Italian parsley leaves (loosely packed) 60 mL
¼  Freshly ground black pepper 1 mL
Five Dippers
8 small Whole wheat pita bread, cut into wedges 8 small
2  Red bell peppers, cut into strips 2
12 Baby carrots, cut in half lengthwise 12
8 stalks Fresh celery, cut into strips 8 stalks
1 medium English cucumber, cut into spears 1 medium
Directions:
Dip 1: Tzatziki
1. Wash the cucumbers and cut them in half length-wise. With a spoon, scrape the seeds out of each half and discard.
2. Grate cucumbers and mix with salt in a strainer over a bowl. Let sit for 30 minutes.
3. Press on cucumber with the back of a large spoon to squeeze out liquid. Discard the liquid.
4. In a bowl, mix the cucumber with the rest of the ingredients.
5. Cover the bowl and chill until served.
Dip 2: Italian Bean Dip
1. Place the beans, garlic, lemon juice, lemon zest, olive oil and parsley in food processor bowl.
2. Pulse until the mixture is smooth. Add a few drops of water if mixture is dry.
3. Season with pepper.
4. Put in bowl, cover and chill until served.
Five Dippers
1. Arrange five dippers on serving dish. Serve with two dips. 
Makes 12 servings (262 g)
Source: developed by Terry B. for Apple E-Parenting newsletter, Alberta Health Services.
Per Serving: 160 calories, 4 g fat, (1 g saturated fat, 0 g trans fat), 270 mg sodium, 25 g carbohydrate, 7 g protein, 5 g fibre.
For more recipes, see Inspiring Healthy Eating at Healthyeatingstartshere.ca