Holiday Safety
Monday, December 14, 2015 10:42 AM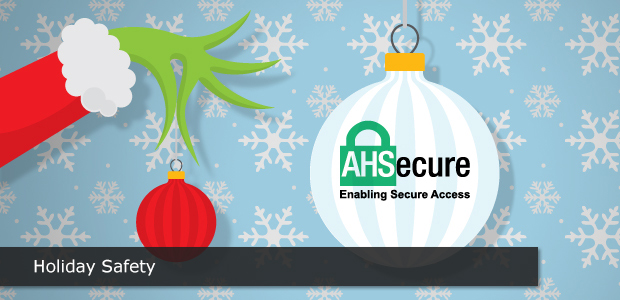 The holiday season is upon us – a time of year when we gather with family and friends, celebrate life, count our blessings and reflect on what's important.   It's also that time of year when we like to offer everyone a few tips on how to stay safe and avoid some Grinches who also come visiting during the holidays.
Grinches online
Unfortunately, there are Grinches out there who are looking to ruin your holiday by stealing your private information.  Some put out sophisticated online scams and cyber-campaigns through unsolicited e-mail messages.  Be on the lookout for:
- e-cards from unknown senders 
- social media campaign e-mails asking holiday shoppers to donate money to "worthy" causes
- seasonal e-mails pushing deals that appear "too good to be true"
- shipping information e-mails for products you did not order or from unknown shipping vendors
These types of e-mails could be part of potential phishing scams or malware campaigns. They try to fool you into clicking on a link that infects your computer with malicious software or trick you into sharing sensitive information. Do not click on links or open attachments associated with suspicious emails.
Grinches out and about
With so many festivities and activities over the holidays it's sometimes more convenient to take work home.  If you do, take steps to protect computers, documents and files.
Grinches often target vehicles during the holiday season because there are usually more packages and valuables left in plain sight. Malls and restaurant parking lots are particularly vulnerable. Remember to never leave your laptop cases, brief cases, cell phones and work documents unattended. 
Have a happy and safe holiday.
From all of us at Alberta Health Services:
Information Risk Management (AHSecure)
Protective Services
Information & Privacy