A Perspective on Immunization in Tanzania
Tuesday, December 15, 2015 11:12 AM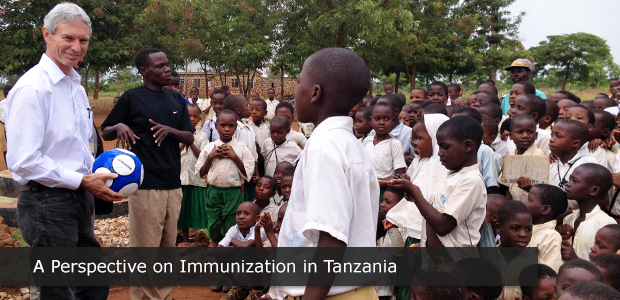 For the past several years it has been my privilege to travel to Mwanza, a city on Lake Victoria in Tanzania, to serve as a guest lecturer in a Master of Public Health program being jointly developed by the medical school there and ours at the University of Calgary.  Every year I have been amazed at the resilience of the people there and what is achieved by the health care workers in the face of such limited resources.
Tanzania is one of the poorest countries in the world, with nearly 70% if its population subsisting on $1.25 USD per day or less.  Its government spends only about 11% of its annual budget on health – less than a quarter of our provincial government's annual expenditure.  Yet vaccination coverage is as good as or even better than what we achieve in Alberta.  For example, 92% of 2 year old children in Tanzania have received their third dose of DPT (Diphtheria, Pertussis and Tetanus) vaccine, as compared to 88% in Alberta. 
I have to think this is because the Tanzanian people live under the scourge of infectious disease every day.  Four of the five major causes of death among children under the age of five years are infectious diseases, at least two of which are vaccine preventable. Tanzanians recognize and eagerly embrace the contribution of vaccines to their health or more starkly, to their very survival.
So then I come home to Alberta and wonder 'what gives'?  We have such an abundance of resources yet our uptake of life-saving vaccines against such familiar diseases as influenza is sub-optimal at best.  Even with our amazing technology and highly skilled health care workers, hundreds of Alberta citizens die every year from influenza.  What a shame.  What a needless loss.  It breaks my heart.
I urge everyone to get vaccinated against influenza every year, both for their own protection and for that of those around them.  The vaccine is safe and effective, even if the amount of protection may vary from year to year depending on the circulating virus strains.  It will protect you and those you love and care for.