Spinach Pinwheels
Monday, December 21, 2015 3:05 PM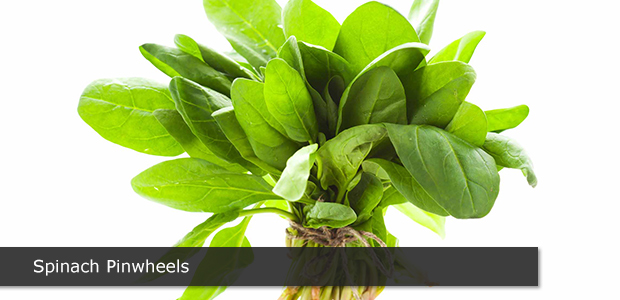 Canada's Food Guide recommends eating at least one dark green and one orange vegetable each day. This recipe is made with spinach, a delicious leafy green that is packed with important nutrients like fibre, vitamin A, folate and iron.
 Ingredients:
1 ½ lb Fresh spinach, washed and chopped 680 g
1 cup Unsalted cottage cheese, 1% M.F.  250 mL
½ cup Reduced fat cheddar cheese, 21 % M.F. or less, grated 125 mL
1 Tbsp Basil pesto 15 mL
3 cups All purpose flour 750 mL
1 Tbsp Baking powder 15 mL
½ tsp Salt 2 mL
⅓ cup Non-hydrogenated margarine 75 mL
1 cup 1% milk 250 mL
1 Tbsp Non-hydrogenated margarine, melted 15 mL
¼ cup Reduced fat cheddar cheese, 21 % M.F. or less, grated 60 mL
Directions:
1. Preheat oven to 375˚F (190˚C). Lightly spray a baking pan with non-stick cooking spray. Set aside.
2. In a small pot, cook spinach, covered, on low heat until wilted and most water from spinach is evaporated. Gently mix in cottage cheese, cheddar and pesto; set aside.
3. Measure flour, baking powder, and salt into a large bowl.
4. Cut ½ cup of margarine into flour until mixture resembles coarse crumbs. Make a well in the centre.
5. Add milk to well; stir until soft dough forms. Knead 8 times.
6. Roll dough to 10 x 12 inch (25 x 30 cm) rectangle. Spread spinach mixture evenly on dough and roll up from long covered side (like a jelly roll).
7. Pinch seam against roll to seal; cut into 12 even slices.
8. Lay slices flat on prepared baking sheet.
9. Brush slices with 1 tablespoon melted margarine and sprinkle with ¼ cup of cheese. Bake in 375˚F (190˚C) oven for 20 to 25 minutes or until golden.
10. Serve warm or cold as a snack or side dish.
Makes 12 servings (1 slice / 145 g)
Per Serving:230 calories, 9 g fat, (2.5 g saturated fat, 0 g trans fat), 380 mg sodium, 28 g carbohydrate, 10 g protein, 2 g fibre.
For more recipes, see Inspiring Healthy Eating at Healthyeatingstartshere.ca