Beef, Tomato and Vegetable Soup
Friday, January 8, 2016 11:23 AM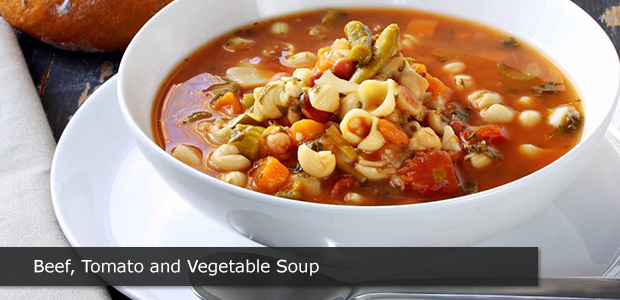 This simple recipe is full of vegetables that are inexpensive and available year-round. Try this healthy and hearty soup to help you meet your goal of 7–10 servings of vegetables and fruit every day.
 Ingredients:
2 Tbsp Canola oil 30 mL
1 lb Lean ground beef 454 g
1 medium Onion, diced 1 medium
½ cup Celery, minced 125 mL
2 Tbsp Tomato paste 30 mL
8 cups Water 2 L
1–14 ounce can No salt added canned tomatoes 1–398 mL can
2 lb / 1 bag Mixed frozen vegetable 1 kg bag
1 cup Potato, diced 250 mL
2 Tbsp Parsley, dried 30 mL
1 tsp Oregano, dried 5 mL
1 tsp Basil, dried 5 mL
1 tsp Garlic powder 5 mL
3 cups Small whole grain pasta, dry 750 mL
Directions:
1. In a large pot, heat half of oil, add ground meat and cook until browned. Drain all fat and set meat aside.
2. In the same pot, heat remainder of oil, add onion; cook on medium heat until onion is soft. Add the cooked ground beef, celery and tomato paste.
3. Add water and bring to a boil.
4. Add canned tomatoes, mixed vegetables and potato; bring to a boil.
5. Add parsley, oregano, basil, and garlic powder.
6. Add pasta; bring to a boil, reduce heat.
7. Cook on medium heat for 10 to 15 minutes or until pasta is cooked.
8. Adjust seasoning to taste; add more water if soup is too thick.
Makes 12 servings (375 mL/ 1 ½ cups/ 405 g)
Per Serving: 260 calories, 7 g fat, (2 g saturated fat, 0 g trans fat), 140 mg sodium, 36 g carbohydrate, 14 g protein, 5 g fibre.
For more recipes, see Inspiring Healthy Eating at Healthyeatingstartshere.ca