Granola
Monday, January 25, 2016 1:52 PM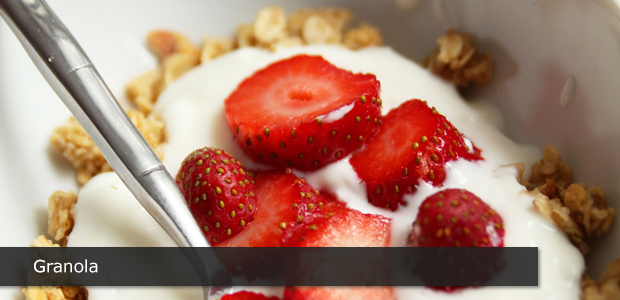 When setting goals for healthier eating, choose small changes that will work for you - like making time for breakfast. Make this granola ahead of time and enjoy it with low fat milk and sliced fresh fruit for a quick weekday breakfast. 
 Ingredients:
4 cups Large flake oatmeal 1 L
1 cup Almonds, sliced 250 mL
½ cup Sunflower seeds 125 mL
½ cup Wheat germ  125 mL
½ tsp Cinnamon  2 mL
½ cup Brown sugar 125 mL
⅓ cup Honey 75 mL
1 medium Lemon          1 medium
1 medium Orange          1 medium
2 cups Dried fruit, finely chopped  500 mL
Directions:
1. Preheat oven to 350°F (175°C)
2. In a large bowl, combine oatmeal, almonds, sunflower seeds, wheat germ and cinnamon.
3. In a saucepan, combine brown sugar and honey; bring to boil and remove from heat.
4. Grate orange and lemon zest then squeeze juice.
5. Add orange and lemon zest and juice to brown sugar and honey then pour over oatmeal mixture.
6. Toss gently, spread over a greased baking sheet.
7. Bake at 350°F (175°C) for 30 minutes stirring every 10 minutes until golden brown. Let cool.
8. Add dried fruit to granola and store in airtight containers.
Makes 12 servings (125 mL / ½ cup / 126 g)
Per Serving: 390 calories, 12 g fat, (1.5 g saturated fat, 0 g trans fat), 15 mg sodium, 65 g carbohydrate, 11 g protein, 8 g fibre.
For more recipes, see Inspiring Healthy Eating at Healthyeatingstartshere.ca