Alzheimer's Awareness: Supporting Patient and Caregiver
Wednesday, January 27, 2016 1:09 PM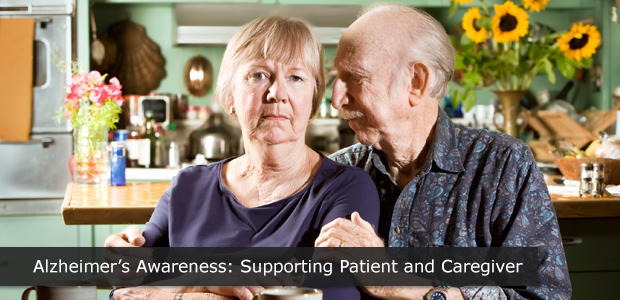 Working in provincial policy development in Home Care, I am always trying to incorporate components of caregiver support into provincial policies and projects. The role of family caregivers is integral to Home Care.  My own experience watching my mother as a caregiver of a spouse with Alzheimer's however has really opened my eyes to some of the day to day struggles caregivers' experience.  

In 2014, my mom and step-dad Garth moved in with my family in Edmonton from Northern New Brunswick.  As the only daughter, my mom and I both felt she needed to be closer to support network in order to help her care for Garth.  I did not quite understand how hard it was for my mom as a caregiver until they spent a few weeks with us.  My mom was experiencing caregiver burnout.  She was so tired.  Her ability to reason and make decisions was limited.  
Garth was content and he handled the move well. He enjoyed my toddler wandering around and all of his toys.  However, he was becoming incontinent at times, he could not be left alone for fear he might wander away, and he was not always kind to my mom when she was helping him along.  Sometimes she was not kind to him either.

My husband and I sat my mom down in the kitchen one night.  We talked about how long she could continue as Garth's primary caregiver.  We told her we were worried about her health.  I told her I thought it might be time to think about a supportive living facility for Garth where she would not be responsible for his 24/7 supervision, but could still be active in his care.  I felt terrible as the step-daughter for even bringing this up.  We also talked about this not being her fault.  We told her she was doing a great job with the cards she had been dealt.  I told her I thought it might be better for both of them.  We cried a lot.  We laughed a little too. We drank wine.  We talked about how things would be different if Garth did not get this terrible disease.  We talked about all the retirement activities they had planned. 
  
Fast forward three years, Garth is doing well.  He now lives in a long-term care facility near our homes. The facility has birds and two house cats that the residents enjoy.  The nursing home is not the newest of buildings but I find the staff to be caring and kind.  Garth seems to be content most of the time.  I will be honest, I do not visit enough.  I'm trying to get there more this year. I find it hard to visit him because it is still sad to me to see him this way.  I am not sure he knows me but I think he enjoys the moments when I visit. 

I visited him before Christmas over dinner time.  Dinner time can be a bit chaotic in a dementia unit but the staff and residents go with the flow.  One resident got up and left during dinner, another knocked over their drinks and it was no big deal.  I brought some cookies and they were devoured by Garth and his dinner mates.   A lovely gentlemen pulled me aside after dinner and told me I was beautiful. 

My mom is a new woman.  She has a social life, a job and personal trainer.  She has a cool new apartment.  She barely has time to make it to my son's hockey games. However, life is not perfect.  She is still grieving.  She is experiencing the loss of the plans and dreams she had with Garth. She has financial burdens she had not planned for with his care needs.  I do not think I will ever truly know what she has gone through, but I think she is making the best of a bad situation and also like Garth, trying to live in the moment. 

There are lots of caregivers in Alberta just like my mom.  If you know a caregiver is experiencing distress, reach out to them and offer your support.  Caregivers in Alberta can also call 811 and receive specialized dementia advice from Health Link.  This service is to help support individuals and caregivers living with dementia, including Alzheimer's Disease. 
If you need advice about dementia, you can contact Health Link's new Dementia Advice line for Albertans: http://www.albertahealthservices.ca/scns/Page12938.aspx
Also learn more about Continuing Care Living Options here:
http://www.albertahealthservices.ca/cc/page13336.aspx
What can you do to help prevent caregiver burnout? Feel free to share your thoughts in the comments below.