Supporting the Cancer Journey
Thursday, February 4, 2016 10:09 AM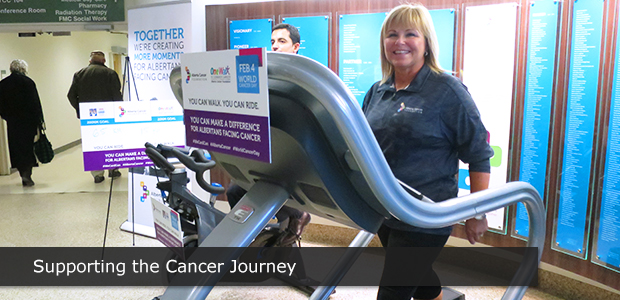 Throughout my personal and professional journey I have been left with many powerful imprints about people's resiliency, generosity, the ability to deal with difficult situations and the love for life, family and friends.  In my nursing career I have been invited into people's lives during some of their most vulnerable but also joyful occasions. 
Although World Cancer Day is only one day and the Alberta Cancer Foundation One Walk for Cancer is also one day we must remember that everyday there are patients and families who are on this journey.  I have committed to participating in both these events to honor and thank the patients and families  and my family and friends who have taught me so much about care, compassion,  courage and perseverance.   I am also participating to thank the health care teams,  volunteers and our generous donors who  work tirelessly to ensure we continue to provide  excellence in cancer prevention, screening, diagnosis, treatment or end of life care.  I will never be able to truly know how "one feels" or to  "walk in one's shoes" but I am willing to show my commitment and desire to support those who are on the cancer journey and to acknowledge the imprints that they  have left on me by leaving my footprints during World Cancer Day and the One Walk for Cancer on June 25, 2016. 
Now I encourage you to join. This is your chance to be part of a life-changing movement to conquer ALL cancers. The theme of this year's World Cancer Day is We Can/I Can. I have just shared with you how I can show my support to cancer patients, staff and families, now it is your turn to show me how we can walk together to fight cancer. Not only is the day about coming together, it is also about  being physically active. AHS researchers have examined how physical activity can reduce the risk of cancer and how it can help coping with cancer treatment, improve rehabilitation and survival after cancer. In fact, we recently conducted a study that about 45 per cent of cancer cases in Alberta are linked to a handful of factors that we know can be changed, factors like physical inactivity. That's more than 6,700 cancer cases per year!
So, I challenge all of you to show your commitment this World Cancer Day and sign up for One Walk. Because together, we can make a difference in cancer.