911: How my child helped save my life
Tuesday, February 16, 2016 11:23 AM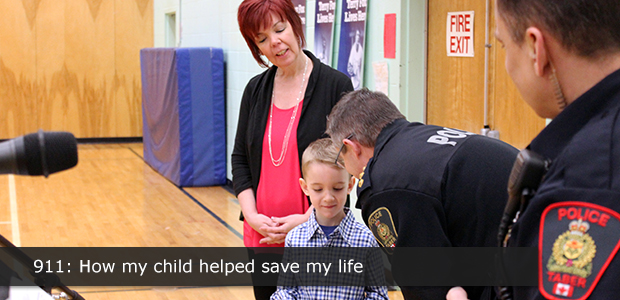 I have no memory of December 27, 2015; but I can tell you this much - that was the day my five-year-old son, Dane, saved my life.
All the practising Dane and I had done came together that day. Teaching him to learn our home address, how to use the phone, how to call 9-1-1, and how to answer the questions a 911 operator might ask him if he did have to call – all paid off .
At about 3:30 that afternoon (I learned after the fact), I wasn't feeling well and had been lying on the couch. At some point, I went to the bathroom and it was there that I collapsed from a medical crisis and went unconscious. When I fell, my face hit the floor, causing two teeth to break off. My body blocked the door.
Dane must have heard me fall, because he came to the bathroom and called out to me. When I did not answer him, he looked in through a gap in the door and saw the blood from my injured mouth. That's when his 'training' kicked in. First, Dane phoned my mother - his Grandma - and when Grandma was not home to answer the phone, he called 9-1-1. Dane remained calm, stayed on the line and told the dispatcher what had happened and where we lived. He put on the outside light and opened the door for police and paramedics, then led them to me.
Recently, emergency responders in Taber, the town where we live, honoured Dane at his school during  an assembly of his Kindergarten classmates and other students. The Taber Police Service praised my son and gave him a certificate in recognition for his "knowing exactly what to do in an emergency situation."  The paramedics who responded to his call were there too, presenting him with an Edmonton Oilers jersey with his name across the back, along with the number on the jersey, fittingly: 9-1-1.
When the Taber Police Service's School Resource Officer introduced Dane at the assembly and told the other children what he had done, he challenged them all to go home and learn their addresses and phone numbers. "When I see you in the hallway and give you a high-five," he told them, "I want you to tell me your address." 
Dane saved my life, and he is my angel. If I had not taught my son how to react if there was ever an emergency in our home, I am quite certain that I would not be here now, writing this message. I am strongly urging other parents to understand the life-and-death importance of taking the time to teach their kids these skills, too. Children can learn these things at a very young age.  I know this first hand, as Dane was three years old when I started teaching him. 
Here is a link to a Government of Canada website with tips on Emergency Preparedness for Children.
http://www.getprepared.gc.ca/cnt/plns/mrgncychldrn-en.aspx
  I hope you'll make the time to do this for the safety of yourself and your household, and at the same time.  I pray it will never be needed.