Nutrition Month - Making healthy choices with the family
Wednesday, March 2, 2016 3:43 PM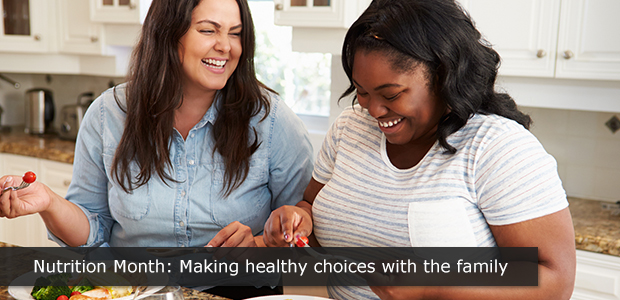 I get it! Finding a work-life balance is really hard. Starting back to work full-time as a community dietitian, has been a huge adjustment for me, and for everyone in my family. One of my biggest goals in making this change was to ensure my family still has nutritious meals and the time together to enjoy them. When everyone is going different directions, eating meals together allows us to "check in" with our kids. I depend on this time to relax and connect with my family.
Scheduling a family meal into our calendars makes it as much of a priority as the other activities in our lives.
Keeping up in our fast paced world is tough. When we are short on time, it's easy to skip meals. No matter how busy life gets, it is important to make time for meals. Make it a team effort-everyone in the family can help make it work.
Keep it simple.
Meals don't need to be fancy.  Make it quick and easy. Consider breakfast or lunch as an option during the week or on the weekends. A picnic lunch with chicken salad on a bun after a soccer game, or slow cooker hot apple porridge at Sunday brunch may be the perfect way to make eating together possible. 
Turning off devices allows our meal, family and friends to be the focus of our attention.
"Put your phone and iPad's into the basket until after supper" I tell my kids. Eating without distraction in a quiet comfortable place encourages mindful eating. Mindful eating, means paying attention to the eating experience with all of your senses (seeing, tasting, hearing, smelling, and feeling). It also means being aware of how you feel while eating without judging yourself. The focus is more on how to eat, and less on what to eat. 
This allows our food, meal time environment and conversation to be fully enjoyed. 
Teaching our kids healthy eating habits goes beyond food choices.
The tradition of eating together helps us share more than just food. It can help create supportive relationships and encourage a sense of belonging, culture and shared values. "What was the best and worst part of your day" I ask my son and daughter at the dinner table. This conversation starter encourages all of us to express a wide range of emotion and experience in a safe environment. Everyone has something to contribute and something to gain from the experience.
Think of the possibilities!
We have soccer and gymnastics on Tuesdays, Wednesdays and Fridays as well as some weekends. So I make sure we have meals together on Mondays, Thursdays and at least one meal on the weekend. Family meals don't need to happen every day. Start with one meal. Then, figure out how many days and ways it can work to share time together celebrating food and each other!  
How do you find ways to eat healthy?