Giving Back Through Art
Tuesday, March 15, 2016 2:38 PM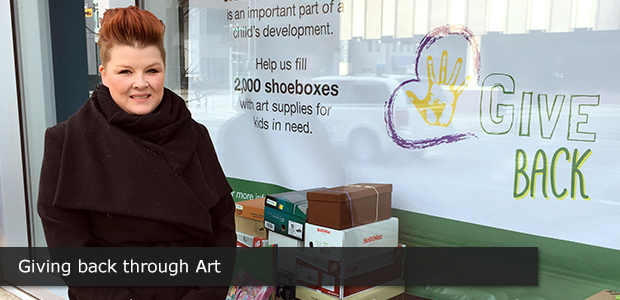 Art is one way for children to heal and thrive.  It's restorative and allows them the power to express and create.  This, in itself, is a key factor in health and well-being and the Sheldon M. Chumir Health Centre wants to help ensure that the kids in our community have access to these basic tools.
That's why we launched our first Give Back campaign on March 1, 2016.
Throughout the month we're asking Calgarians to donate shoe boxes full of art supplies such as safety scissors, construction paper, markers, pencils, glue, stickers and modelling clay.
It's our aim to fill the display windows in the building from floor to ceiling with these shoeboxes and we've partnered with agencies such as The Boys and Girls Club, YWCA, Sonshine Centre, and Awo Taan, who are already eagerly awaiting their arrival so they can distribute them to the kids in our community that would otherwise go without.
As a community health centre, I believe it's imperative that we are engaging, as in the communities we serve.  We aim to integrate ourselves within communities and show the public that health is about so much more than what happens within our centre.  Healthcare encompasses so many things.  And for that reason, we looked at how children's wellbeing can be impacted, especially during tense and difficult times in their lives.    In today's economic environment, financial and personal stress is on the rise and children and families are increasingly impacted by this.  As a community of caring, we want to be able to give back, to reach out and help, and to find a way to ask the community to give back too.  
How will you give back?
For more information, please visit ahs.giveback.