Fruit Kabobs
Wednesday, March 30, 2016 3:05 PM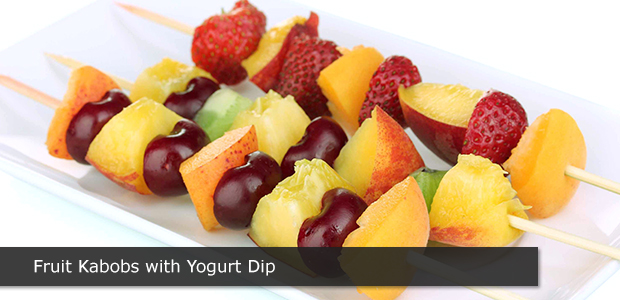 Fruit kabobs are a fun way to mix up your fruit intake all year and help you get to your goal of 7–10 servings of vegetables and fruit daily. They can be made with any fruit that is in season, so be creative! Use a low fat yogurt for a quick and easy healthy dip.
 Ingredients:
¾ cup Fresh fruit, in-season 175 mL
1 Tbsp Fruit flavoured, 0 % M.F. yogurt 15 mL
Directions:
Note: Try using locally grown fruits that are in season for the kabobs. Here are some examples of seasonal fruits:
Spring/Summer Kabob: strawberries, peaches, blueberries, raspberries, grapes.
Fall/ Winter Kabob: apples, pears, grapefruit, oranges.
1. Wash the fruit.
2. Peel any fruit that need to be peeled (for example, grapefruit or oranges).
3. Cut up fruit into large bite-size chunks.
4. Make the fruit kabobs by sliding chunks of fruit onto skewers.
5. Spoon yogurt into bowls and dip the fruit kabob into the yogurt.
Makes 1 serving (¾ cup/ 175 mL fruit and 1 Tbsp/ 15 mL yogurt) (1 kabob/ 112 g)
Per Serving: 70 calories, 0 g fat, (0 g saturated fat, 0 g trans fat), 10 mg sodium, 16 g carbohydrate, 1 g protein, 2 g fibre.
For more recipes, see Inspiring Healthy Eating at Healthyeatingstartshere.ca