Going the Extra Mile for Mental health
Friday, April 8, 2016 2:49 PM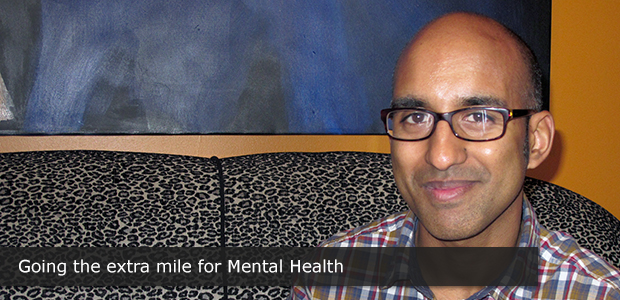 Let's face it, mental health is something we all have, and the state of our mental health can  impact us in a big way. Ever had those days where you just feel down?
May 2 – 8 this year marks the 65th anniversary of Mental Health Week, which is devoted to raising awareness of and reducing the stigma around mental health.
When you have those "down" days, that's your mental health giving you a sign that maybe things are a little off. Mental health isn't just the absence of mental illness. It's also about feeling well, living well, and being able to deal with the various stressors life often throws at us.
In Medicine Hat, our Addictions and Mental Health team is always busy thinking of ways to reach more people with these messages – not just during Mental Health Week, but year-round, as well. However, Mental Health Week does help us illuminate the work we still have to do to raise awareness. It's vital to educate the community; to let people know that anyone can be at risk of mental health issues, making it very important to focus on taking care of ourselves.
We're gearing up for our third annual Move for Mental Health Fun Run/Walk as  a kick-off event to Mental Health Week. Move for Mental Health is a community event led by Community Coming Together (an interagency committee), which engages the public to support mental health initiatives by taking part in the run, with all funds raised going to the local Canadian Mental Health Association. 
We'll be running our successful coffee-sleeve campaign again this year, in partnership with two Medicine Hat coffee shops, where we provide coffee sleeves that have tips for well-being printed on them. Since so many people enjoy coffee, we've found  it's a great way to provide many folks with easy tips that to promote wellness. Maybe they'll share what they learn with others, too!
Lastly for Mental Health Week, we will be working with the HUG (Helping Us Grow) and MyPlace projects (school-based mental health capacity-building projects) to run a Family Self-Care Fair. This is a free event for families to come out and have fun while  enjoying a variety of activities focused on wellness and well-being.
Every community faces challenges from time to time that can have an impact on the mental health of its residents. In 2013, many people in Medicine Hat had their homes damaged by flooding, and some even lost their homes. More recently, our city has seen job losses as a result of the downturn in oil prices. In response, we've broadened our capacity for outreach and found new ways to promote our services.   
Remember:  being active, laughing, and having fun can all contribute to positive mental health, so make sure you take some time out of your day, every day, to engage in something that contributes to your well-being. The Ways to Wellness campaign is a great way to start off, with seven different ideas and challenges focused on wellness. Challenge yourself and others to participate in this fun, easy campaign to wellness. The information can be found at
http://www.albertahealthservices.ca/amh/Page13618.aspx
Have there been any challenges or circumstances where you live that could affect residents' mental health? How did the community respond?