Volunteer Power
Friday, April 8, 2016 3:15 PM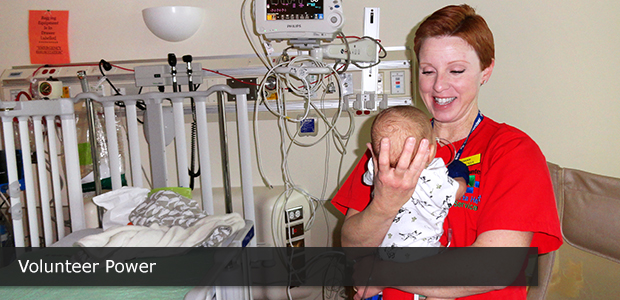 This morning, I had the honour and privilege of holding a sweet elderly woman's hand and being a loving presence as she took her last breaths.
In the next two days, I get to love and snuggle sweet babies recovering from surgery in Unit 2, at the Alberta Children's Hospital and help out at the Rotary Flames House alternating between being silly, quiet, loving, funny, goofy Diane in order to get my sweet kids and their families to smile.
This weekend I will be volunteering at the Rockyview General Hospital's emergency department comforting, supporting and lifting the spirits of patients and families alike.
Once in a while I really have to stop and pinch myself. How blessed am I to be able to surround myself with such amazing people? How lucky am I to have a great husband and an amazingly awesome teenage son to support and love me? Wow.
There's never one day that goes by that I'm not grateful for everything I have. Forty-five years ago, I was born into a very neglectful, abusive, frightening situation. I spent the first five years of my life surviving any way I could. I then entered the foster care system. I lived all around Calgary in many different foster homes until I turned 17. I was a great kid who happened to come from painful circumstances.
Over the years, I witnessed dozens of kids in my situation become angry, mistrustful and abusive toward themselves and others. Although a couple of my foster homes were as bad, if not worse than my biological family, and my spirit came dangerously close to breaking, I never stopped believing that someday I was going to be okay.
 
 And with hard work and determination I was.
 
Nineteen years ago I met my husband and we have a wonderful son, Mathew, who is 14 years old now. When our little guy was born, he needed extra medical support. The amazing team of doctors, nurses, and therapists helped Matthew to become a strong, smart, confident young man. At the time, Matthew needed a variety of physio, occupational, and speech therapies. I fell in love with the Alberta Children's Hospital and promised myself that one day I'd give back the love and support that we received. 
Almost six years ago, I began volunteering with Alberta Health Services and I've never looked back. I wish I could truly put into words how it feels to be able to connect with and support so many people, from all walks of life.
I honestly wouldn't change even one day of my past, because then I wouldn't be who I am today: a passionate, caring, goofy, strong redhead with the ability to relate to so many people and their own struggles.
I'm so proud to help care and comfort so many Calgarians — from the beginning of their lives to the very end — with the support of everyone at Alberta Health Services.
 
Happy Volunteer Week to all my fellow volunteers who wear the iconic red uniform here in Calgary! As volunteers, we love what we do, and consider it our privilege to support our health teams in helping patients and their families.
Celebrate and thank volunteers in your community, April 10 – 16, 2016. Join us on Facebook and find out how you can become an Alberta Health Services volunteer at www.albertahealthservices.ca/volunteers.
Have you had an experience made better through the help of a volunteer?