Mackenzy's Gift of Life
Friday, April 15, 2016 1:48 PM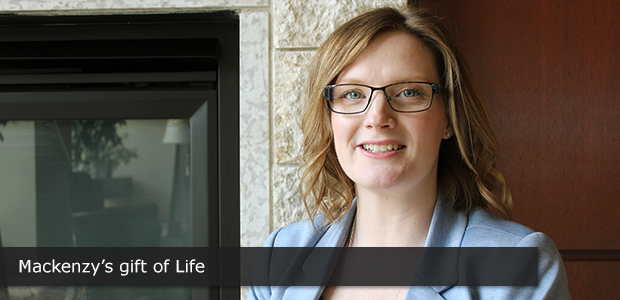 In May of 2012, at the age of 22 months, our daughter, Mackenzy Jane Woolfsmith, gave the gift of life. 
Mackenzy passed away suddenly, but she was able to donate her organs. Her gifts were her heart, liver and kidneys, but she also gave us an amazing gift to help us walk through life without her.
The week of April 18th is National Organ and Tissue Donor Awareness Week (NOTDAW) – a week to honour organ and tissue donors and their families who have given the precious gift of organ and tissue donation. For my family, it's a chance to honour my daughter's memory and the impact she's had on so many people.
NOTDAW is also a week to heighten awareness around the need for organ and tissue donation and the benefits of transplantation.
Sitting in the hospital, we never imagined how helpful organ donation would be in the grief that was to come. Regardless of how dark the days were, I always had the knowledge that she saved four other childrens' lives. 
And the pride and love that I feel because of what Mackenzy did would swell up in my chest and help me to do whatever it was I had to face that day. 
Some days, the pride of what Mackenzy did was the one thing that got me off the floor when I thought I would lie there crying forever. Some days it helped me get in the shower and tackle leaving the house for a few groceries, and some days it's as simple as allowing me to continue a conversation with someone who has just learned I am a bereaved mother. 
It's a wonderful feeling to tell others about Mackenzy's gift, and share what a wonderful impact it can have, not only in the lives of others but also in the role it played in my grieving process.
There are so many aspects of organ donation that I had never considered before we lived it. My husband and I knew that we both wished to be donors, but we still hadn't really stopped to think about it. We didn't appreciate how many people it took for successful transplants to occur. The testing, the hours spent by the transplant coordinator to ensure that the people who needed her organs the most would get them, the logistics of coordinating so many surgical teams, and the work to ensure the recipients were prepped and waiting on the other end. 
How incredible is it that her precious heart – the heart that we once listened to inside my belly – could have been flown across the country, with so many people working to ensure its safe arrival, so that it could answer the prayers of another mother desperate to save her baby's life. 
For me, I felt privileged to be a part of it.  And although nothing will ever lessen the devastation of losing Mackenzy, the honour of her being a donor will always live right alongside it.
I urge families to consider whether organ and tissue donation is right for them, have the conversation and make your wishes known by visiting www.ultimategiftalberta.ca.