Herbed Yogurt and Goat Cheese Spread
Thursday, April 28, 2016 3:21 PM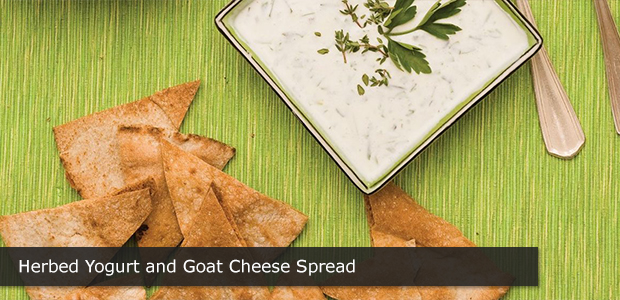 Choose and prepare healthy food! By making your own cheese spread, you can control the amount of fat and salt that you add, as well as the quality of the ingredients.
 Ingredients:
8 oz Reduced fat soft goat cheese, 21% M.F. or less 250 mL
1 cup Plain 1% M.F. yogurt 250 mL
1 clove Garlic, grated or finely crushed 1 clove
¼ cup Fresh basil leaves 60 mL
¼ cup Fresh parsley leaves 60 mL
2 Tbsp Fresh chives, chopped 30 mL
1 tsp Fresh thyme, leaves pulled from the stems 5 mL
1 tsp Fresh rosemary, chopped 5 mL
2 Tbsp Extra-virgin olive oil 30 mL
¼ tsp Sea salt  1 mL
¼ tsp Freshly ground pepper 1 mL
Directions:
1. In a medium bowl, or food processor, blend the goat cheese, yogurt and garlic until smooth.
2. Add the fresh herbs and stir or pulse until well blended, making it as smooth or chunky as you like; drizzle in half the olive oil. Add the salt and pepper.
3. Add more yogurt, a squeeze of lemon or a few spoonfuls of water if the mixture is too thick.
4. Transfer to a bowl and drizzle with the remaining olive oil.
Makes 10 servings (approximately 45 mL/ 3 Tbsp/ 50 g)
Source: developed by Julie van Rosendaal for Apple, Alberta Health Services' health and wellness magazine.
Per Serving: 90 calories, 7 g fat, (3.5 g saturated fat, 0 g trans fat), 150 mg sodium, 2 g carbohydrate, 5 g protein, 0 g fibre.
For more recipes, see Inspiring Healthy Eating at Healthyeatingstartshere.ca