Celebrating Our Nursing Teams
Tuesday, May 10, 2016 9:40 AM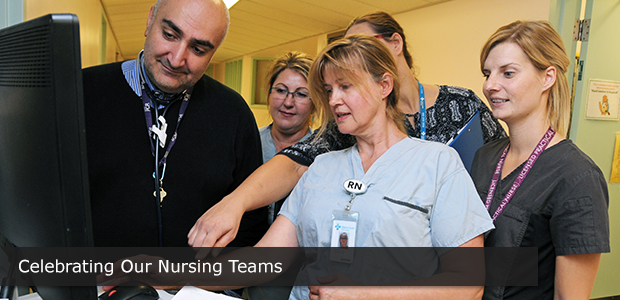 Following graduation from nursing school, I was recruited to work in a large Emergency department and Cardiovascular Intensive Care Unit (ICU) in the United States.  I was fortunate to have been offered a fellowship - where new graduates were given up to six months of one-on-one mentoring prior to being "turned loose."  In those first months of my nursing career, I was scared every day.  There was always something new to learn, do, and face. Without the strength, mentorship and experience of my team, I don't know how I would have made it. 
During Nursing Week, I think about all the great teams I have worked with. This week gives me a chance to share how fabulous I think my fellow nurses are and what an amazing job they do. (I admit I'm not the best at saying thanks 'in the moment.')
When I returned to Alberta, it felt as though I was beginning my career again.  I was nervous, scared and excited and, well, a bit unsure of my new teams.  The way Alberta nursing teams worked together was a little different – the nursing specialists had slightly different roles. What didn't change was how the teams were united, supported and mentored each other, recognized each other's unique expertise, and were patient focused.  The Albertan nurses encouraged me to continue developing my nursing expertise. For that, I am forever grateful.   
Where there is a supportive nursing team, I have found there are patients and families who comment on the cohesiveness and expertise of the nurses. They see how the teamwork impacts their immediate and ongoing care.  So, this Nursing Week, I challenge and encourage you to consider nursing teams. Take a moment to truly acknowledge and appreciate the skills, talents, and expertise each member brings. 
Nursing Week runs from May 9-15, 2016.