Instant Berry Mango Frozen Yogurt
Friday, May 13, 2016 11:52 AM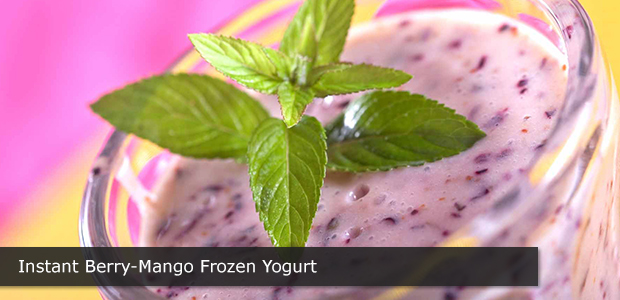 Berries contain antioxidants, fibre and are low in calories. Canada's Food Guide recommends 7–10 servings of Vegetables and Fruit each day. This recipe is fast and easy, and provides1 serving of Vegetables and Fruit.

Ingredients:
1 medium Mango 1 medium
1 lb Frozen mixed berries 454 g
2 cups Plain 1% M.F. yogurt  500 mL
2 Tbsp Honey 30 mL
Directions:
1. Slice the cheeks off the mango stone, score the flesh and scoop it out with a spoon, placing it in the bowl of a food processor.
2. Add the berries, yogurt and honey and pulse until well blended, almost smooth and thick, like soft frozen yogurt.
3. Serve immediately (it will be soft), or transfer to a container and freeze for about half an hour, or until it firms up. (Don't leave it in the freezer too long, or it will freeze solid).
Makes 8 servings (175 mL/ ¾ cup/ 149 g)
Source: developed by Julie van Rosendaal for Apple, Alberta Health Services' health and wellness magazine
Per Serving: 90 calories, 1 g fat, (0.5 g saturated fat, 0 g trans fat), 45 mg sodium, 18 g carbohydrate, 4 g protein, 1 g fibre.
For more recipes, see Inspiring Healthy Eating at Healthyeatingstartshere.ca