Things I learned from the 2013 Flood
Thursday, June 2, 2016 4:30 PM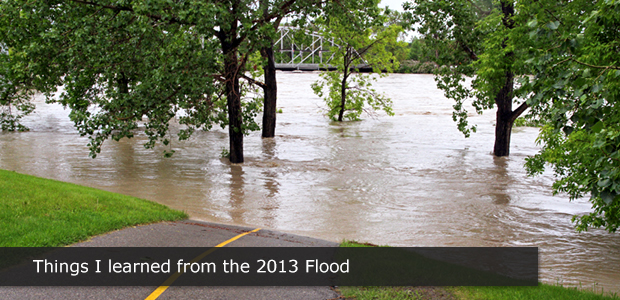 For Alberta Health Services Registered Psychiatric Nurse, Trish Dribnenki-Pennock, the northern Alberta fires reminded her of her own struggles as she was one of thousands impacted by the southern Alberta floods. Dribnenki-Pennock shares stories of what she learned in hope of helping others impacted by the recent fires.
I remember being out for dinner on Thursday, June 20, 2013 when a friend informed me that he'd been evacuated due to the Elbow River rising at a concerning rate. I asked, "How's the Bow River?" and was told that there was no concern. Minutes later, my phone was blowing up with texts: "You've been evacuated!"
I remember racing home, growing anxious as I watched the sidewalks overflowing with torrents of water. I got home about 17 minutes before the evacuation deadline. My son had packed his things, put many of our belongings up on beds and countertops and packed the pets. I still wonder where he learned to do that, but thank goodness he did. He left with his girlfriend. I hurriedly packed a backpack and left as well.
I've been reading and re-reading articles about Fort Mac evacuees and the things they packed in a rush and I giggle as I can relate. After I left my home I went to a grocery store and bought Oreo cookies, chips and dip. Then I headed to my friend's home. I watched the movie 28 Weeks Later and thought, between tears, "Hmm...At least this isn't a zombie disaster and I won't get eaten."
I remember feeling a pit in my stomach. It was a confusing swirling pit full of fear, grief, loss, worry and uncertainty.
On Saturday, we were still unable to go to our home to see what was going on. Of course, I was thinking about all of the possible worst case scenarios. A friend messaged me, stating she was kayaking down my street. She took the time to look at my home and send me pictures. The apartment was half full of a dirty muddy colored liquid. Ironically, I remember feeling relieved to actually see it destroyed—I felt a sense of direction.
The following weeks were a blur. People came from everywhere to help me strip my home of all belongings and damaged and soaked cupboards, drywall, insulation, floors, fireplace, and furniture. Everything imaginable had to go. By the time the dust settled, I was left with concrete floors, studs and wires.
This process was awful, frustrating, heart wrenching and exhausting. I remember being so tired that my arms and legs felt like they were made out of concrete. I remember wishing I didn't have to wake up another day. I remember feeling completely overwhelmed and lost. Fortunately, almost three years later, I'm glad to report I don't remember exactly how awful it was.
Here are the things I learned from the flood:
Unexpected help or gestures of kindness are like Christmas. I remember a friend bringing me a melty, broken Popsicle and a hug, and it was one of the best things ever. I remember people just showing up, without being asked, to deliver a coffee or grab a hammer and a hose to help out. I remember getting a text from one of my co-workers, "Trish, there was an announcement over the radio at work; there are three carloads of us on our way." Even an unexpected sideways hug from an inspector, a first responder, a random stranger was a welcome relief.
Smiles equal comfort, even tired smiles. Smiles are like saying, "We are in this together, I'm here" without saying it out loud. Laughs—even jokes about being flooded—were a welcome break to the stress of the reality.
It's amazing how resilient humans can be. I remember being so tired I thought I was going to break, so many times. And yet, we made it through! From the teardown to the paperwork hassles, I remember looking at the tired, tenacious faces of my neighbours and friends in awe. Flooded humans helped out flooded humans with big hearts, open arms and face-sized smiles. It was incredible to be a part of.
With disaster comes a lot of paperwork. And line-ups. And confusion. And frequent changes. Sometimes there is very little you can control or rely on. Sometimes, the only help you need comes with a 1-800 number, or a voicemail, or a long wait for response, or a response that tears out your guts. What I learned is how absolutely relieved I was when a human sat with me to make that frustrating 1-800 call, or laughed with me when I left an awkward, disjointed voicemail message for the hundredth time, or stood with me in a line-up. There is an indescribable sense of relief when you are going through this with someone beside you, sharing the frustration.
I remember some friends giving advice and telling me what to do, knowing it was with the best intentions. My favourite moments, however, were with the friends who just sat quietly and listened or stood beside me. There were times I just wanted to vent and be heard acknowledged for how exhausting it was. My favourite responses were the honest, genuine ones—especially when there seemed to be little hope.
Follow-ups are so important. The one thing I noticed about disasters is how helpful and present people are. However, several months after a disaster, life has a way of moving forward. I remember that's when the helplessness and hopelessness set in, after the task-mode and adrenalin settled down. For me, I felt like people had forgotten and that I was alone. Fortunately, there were wonderful people who checked in from time to time or dropped by with unexpected acts of kindness. These little interactions gave me a lift when I needed it most.
Unconditional love exists. I learned this at a time where I felt like I had nothing to give back. I couldn't return the kindnesses, I had a very uncertain financial future, I was grumpy, entitled, exhausted and frustrated. But people kept loving me and helping me and smiling for me. It gave me a whole new perspective on life—things don't mean so much, it's the people who matter.
As I look back to that time, I realize how much richer my life is today because of the floods—because of all the amazing humans that we get to share this uncertain planet with.
And I'm left with a huge heart.
Note: I had the opportunity to attend to Fort McMurray recently. One of the most profound interactions I had was with a firefighter from High River. He sat down for his post-fire-fighting medical assessment and the first words he spoke were that he was there "because so many people helped after the flood." I told him that's exactly why I was there too. We talked about the things that reminded us of the flood—the helicopters flying overhead all day long, the sound of big trucks backing up, the tired faces of people relentlessly working to help out. I also found it interesting that we both identified the same triggers, even several years later. I'm filled with gratitude and awe that we have been given opportunity to give back.