Summer Salad Rolls
Monday, June 27, 2016 3:56 PM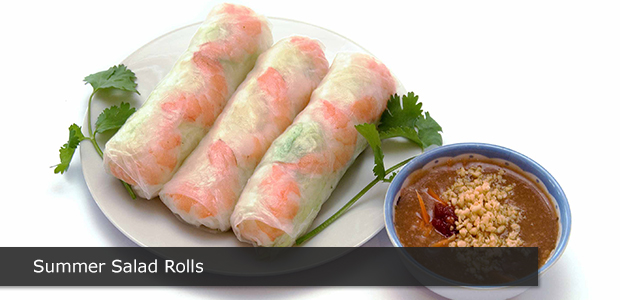 The carrots, cabbage and lettuce make this recipe a creative way to get your vegetables. Two rolls will give you more than one full serving of Vegetables and Fruit from Canada's Food Guide! These work well as an appetizer or a snack for summer days when you want to avoid turning on the stove or oven.
 Ingredients:
Summer Salad Rolls
½ of 2 oz package Rice noodles ½ of 60 g package
1½ Tbsp Rice vinegar 22 mL
1 head Iceberg lettuce, separated 1 head
2 Tbsp Roasted peanuts , crushed 30 mL
¾ cup Shredded, cooked chicken or diced, cooked shrimp 175 mL
1 medium Scallion, cut into 2 inch/5 cm
julienne strips 1 medium
¼ cup Carrot, finely shredded  60 mL
⅓ cup Napa cabbage, thinly sliced 75 mL
¼ cup Fresh basil leaves, chopped 60 mL
¼ cup Fresh mint leaves 60 mL
Spicy Peanut and Lime Sauce
1 clove Minced garlic 1 clove
¼ tsp Hot red pepper flakes  1 mL
1 tsp Canola oil 5 mL
Zest of one lime 
1 Tbsp Lime juice 15 mL
¼ cup Chunky peanut butter 60 mL
2 Tbsp Hoisin sauce 30 mL
½ tsp Sugar 2 mL
as needed Water as needed
Directions:
Summer Salad Rolls
1. Soak noodles in very hot water for 15 minutes and then drain in colander.
2. Cut noodles into 3–4 inch (8–10 cm) lengths and toss with vinegar in a medium bowl.
3. Add remaining ingredients, except lettuce, and toss gently.
4. Cut out ribs from lettuce leaves and discard.
5. Place 2 Tbsp (30 mL) of filling at one edge of a lettuce leaf. Fold in outer edges, roll up like an egg roll and secure with toothpicks.
6. Serve with spicy peanut and lime sauce (see below).
Spicy Peanut and Lime Sauce

1. Put all ingredients, except water, in a blender or food processer.
2. Pulse until blended.
3. Add water 1 Tbsp (30 mL) at time and pulse until sauce is smooth but not runny.
4. Sauce may be made ahead of time and chilled.
Makes 16 rolls, 8 servings (2 rolls/ 115 g)
Source: developed by Terry B. for Apple E-Parenting newsletter, Alberta Health Services.
Per Serving: 120 calories, 6 g fat, (1 g saturated fat, 0 g trans fat), 90 mg sodium, 10 g carbohydrate, 8 g protein, 2 g fibre.
For more recipes, see Inspiring Healthy Eating at Healthyeatingstartshere.ca