Garlic Lime Marinade
Friday, July 8, 2016 2:43 PM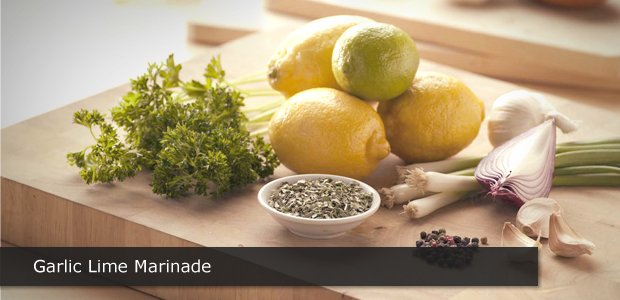 By making your own marinade, you can control the amount of fat and salt that you add, as well as the quality of the ingredients.
 Ingredients:
6 cloves Fresh garlic, minced 6 cloves
2 tsp Ground cumin 10 mL
1 Tbsp  Fresh oregano or 1 tsp (5 mL) dried 15 mL
½ tsp Black pepper                   2 mL
½ cup  Lime juice 125 mL

Directions:
1. In a mortar and pestle, mash garlic into a smooth paste, or mash with a fork in a bowl.
2. Mix in the cumin, oregano, pepper, and lime juice.
3. Marinate meat for at least 6 hours, stirring once in a while.
4. Makes enough to marinate 1 lb (454 g) of meat, fish, or tofu.
Makes 5 servings (2 Tbsp/ 30 mL/ 30g)
Per Serving: 17 calories, 0 g fat, (0 g saturated fat, 0 g trans fat), 3 mg sodium, 4 g carbohydrate, 0 g protein, 0 g fibre.
For more recipes, see Inspiring Healthy Eating at Healthyeatingstartshere.ca