No Bake Trail Mix
Wednesday, August 31, 2016 2:02 PM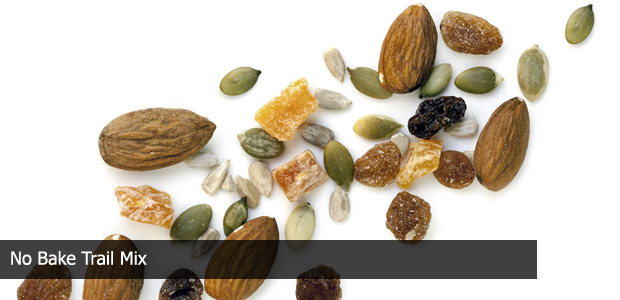 This trail mix is easy to make ahead for a healthy snack on the go. Create your own mix using your favourite cereals, dried fruit, nuts and seeds.
Ingredients
2 cups Whole grain wheat squares (cereal) 500 mL
2 cups Oat ring cereal 500 mL
1 ½ cup Raisins or other dried fruit 375 mL
½ cup Unsalted almonds, pumpkin seeds or sunflower seeds 125 mL
1 ounce Unsalted pretzels 30 g
Directions
Add all ingredients to a large bowl
Stir together
Store in an airtight container or portion into small zip top bags for grab and go snacks
Makes 8 servings (175 mL/ ¾ cup/ 60 g)
Per Serving: 220 calories, 6 g fat, (0 g saturated fat, 0 g trans fat), 70 mg sodium, 43 g carbohydrate, 5 g protein, 4 g fibre.
For more recipes, see Inspiring Healthy Eating at Healthyeatingstartshere.ca