Fort McMurray, Recovery Can Take Time
Thursday, September 1, 2016 4:55 PM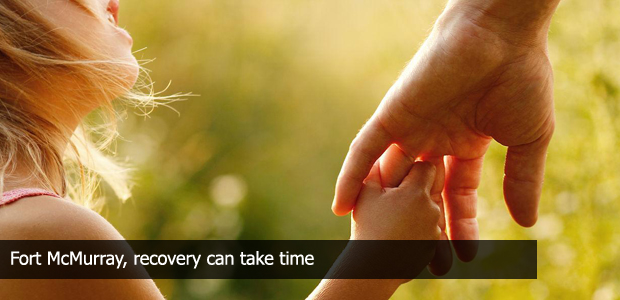 I am a psychiatrist, who has enjoyed living and bringing up my family in Fort McMurray for the past 20 years. During several summers here we have witnessed smoke from forest fires elsewhere, evacuations to the city from communities in the surrounding area threatened by wildfires and Highways 63 and 881 closures – effectively isolating our city temporarily.
I will admit to being totally unprepared for the evacuation on May 3. I was at the hospital when I heard the fire had jumped the river and we were being evacuated. I left my home believing I was headed to another area in the city for a few hours. I left there, heading north, as directed, but after hours in grid-locked traffic, was directed south by police.  We got separated and two of my children ended up north of town.  At midnight, just south of town, my husband and I debated whether we should go all the way to our friends in St. Albert – when we both believed we would be returning to our home within hours or days.  We decided to travel south and fortunately, our children were able to join us the next day.  We were safe, we were together. We were with good friends. Our house was not burned. We were lucky.
I've given the above account because since the fire, when I meet with someone for the first time since the disaster, we share our stories: where we were when the evacuation was called, where we headed - north or south - where we spent the evacuation and whether our homes were damaged or not.
We all experienced the evacuation but we all experienced things differently.  We were all impacted in different ways. Some people lost everything, but everybody lost something – even if that was our normal lives for a period of time.
Everyone recovers from a disaster differently and that's okay. There's no schedule and stress can appear months or even years after a disaster occurs. Certain things may trigger people to feel overwhelmed, sad or lost.
Normally returning to school can be an exciting and stressful time. This year, many people are only coming back to our community now for their children to return to school. For many families there will be change as their children will not be returning to their regular schools.  This may make it harder for people as they grapple with the changes in their lives post-wildfire.
There are basic ways to maintain good mental health.  Establish routines, connect with friends and family, eat regularly and healthily, get proper rest, prioritize self-care and do things that make you feel good such as exercise and spending time on hobbies.
If you're not doing well and would like to connect with a professional, AHS provides several options for that. For resources, call Health Link toll-free: 811 or the Mental Health Helpline 1-877-303-2642. Visit http://www.albertahealthservices.ca/assets/news/advisories/ne-pha-wildfire-mental-health-resources.pdf for a list of Alberta Health Services resources and links or the Help in Tough Times webpage: www.ahs.ca/HelpinToughTimes
You can also speak with your primary care provider/family physician if you are experiencing symptoms of stress or need support coping.