Feeding Kids for Back to School
Tuesday, September 6, 2016 1:34 PM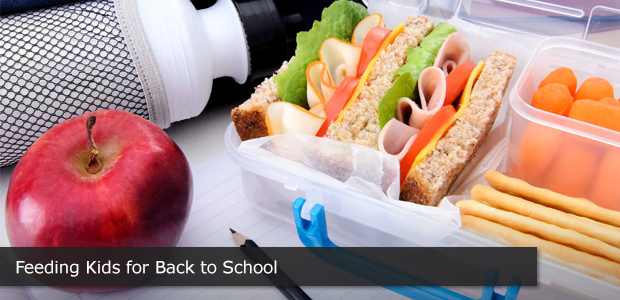 It's school time again!  Like me, you may feel excited but also a little sad that summer is over. As a parent to eight year old twins, I look forward to getting back into a routine with school, work and extracurricular activities. With this comes school lunches and evenings out of the house watching the twin's in sports. Weekends will fill with more  sports, getting groceries, planning and preparing meals and hopefully getting to spend some quality time together.
In the morning, our family's first connection is preparing and eating a healthy breakfast together. My children like to remind me of the 'divisions of responsibility' with eating. As a parent, I am responsible to make sure healthy breakfast choices are in the fridge and cupboards, getting these on the table, while my children are responsible for choosing which foods to eat and how much. My daughter enjoys spreading peanut butter on the toast, while I pour cereal, chop fruit and fill cups with milk, while my son checks the sports highlights before we eat. We try to eat a breakfast with at least 3 out of the 4 food groups from Canada's Food Guide. In our home, breakfast may be a whole grain bagel with peanut butter, sliced strawberries and a glass of milk or whole grain cereal with fruit and low fat milk. On weekends, we have time to prepare homemade breakfast sandwiches, pancakes with my homemade berry sauce and yogurt or whole grain muffins with fruit and cheese.
During the week, I like to pack school lunches the evening before as mornings are rushed. Often I will make extra portions at supper so my son can warm up leftovers in the microwave at school. My daughter prefers other types of lunches. For her, we like to choose whole grains buns, bread or crackers with cheese and lettuce along with fresh veggies and dip, a yogurt and homemade cookie. We choose a variety of whole grains, (low in fat, sugar and salt) to pack so that none of us will get the same type of lunch day after day. Each lunch also has at least one serving of fruit and we change up the flavour of yogurt and homemade whole grain muffins we pack each day.
Schools often have a morning snack time or recess. We try to choose snacks that have 2 out of the 4 Canada's Food Guide food groups. Most often we include fresh or frozen vegetables and fruits, unsweetened applesauce, whole grain bread or cereal, nut butters and milk or cheese strings. Less healthy snacks are rarely in our lunches. We pack water and low fat white milk in lunches and serve these with other meals and snacks. My children know that one juice box per day is the limit.
With some careful planning, shopping and preparation I can offer healthy food choices every day whether we are enjoying a meal at home together or with friends at school.
What are your favourite healthy back to school foods?