Screen Test
Tuesday, September 20, 2016 8:23 AM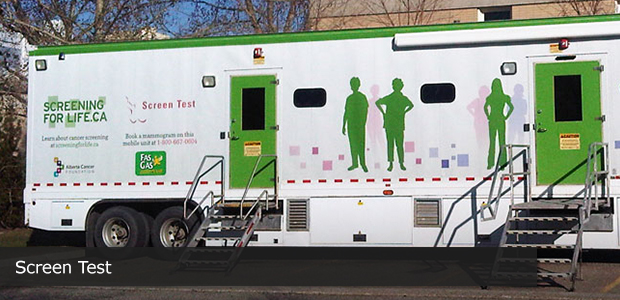 What do you think when you hear 'Screen Test'?  You might think actors auditioning for a movie. But this actually refers to the Alberta Breast Screening Program. The program started with two permanent fixed sites, one in Calgary and one in Edmonton. 
While working in Edmonton in the 90's, my team and I realized this wasn't enough to reach people, so we developed the mobile program to include breast screening to women living in rural Alberta.  Screen Test went on the road in September of 1991. I remember setting up our equipment in unused offices or other free spaces in health units.  In smaller communities we would find space in community centres, old age centres or churches. I recall screening clients between a pool table and shuffleboard table.  Men's washrooms became our darkrooms.  Each day we would pack our undeveloped images into a black, light-tight suitcase and ship them via Greyhound to the main office to be developed. To maintain image quality, the films needed to be developed as soon as possible and we were always relieved to learn our suitcase made it safely. 
In each community, volunteers were recruited from the local hospital to assist with reception duties.  Their role was to greet clients and help them complete questionnaires. The volunteers also made coffee and provided homemade goodies which appeared to turn into a baking competition.
The work took us away from the office three days a week, so volunteers and clients were quick to give us advice on places to eat and sites to see within their community. Our evenings were spent exploring, enjoying the hotel or catching up on sleep. Being in small communities meant we didn't have to spend time in rush hour traffic, which was a big perk.
Everywhere we went, we had women come in and say – "if Screen Test didn't come to town, I would never go to the city to have a mammogram". The relevance of this comment had a major impact on me when I imaged a client with what were obvious clinical symptoms. It was then I realized that Screen Test coming to her town saved her life. 
In 2009 the imaging world changed to digital, which meant bigger equipment and the need for a bigger, more stable truck.  Screen Test had to upgrade to a fifty-three-foot medical coach in order to contain everything in one place. The medical coach came with its own unique set of issues: – finding a level area to park, and a place where the generator noise wouldn't disrupt the neighbourhood. Currently, Screen Test has two medical coach units, one based out of Calgary and one out of Edmonton.
Twenty-five years of breast screening has seen many changes and advancements. One thing that has remained constant is Screen Test's dedication to providing rural Alberta's women with high quality mammographic examinations right where they live; and as we continue to hear, these woman are grateful for such a service, and we are glad to be able to bring it to them.