Pita Pizza
Wednesday, September 21, 2016 2:46 PM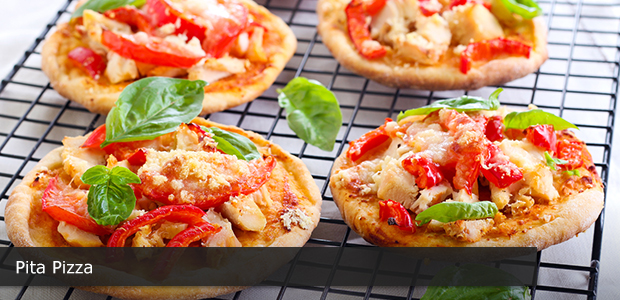 A homemade pizza can be a fast, nutritious meal for a family on the run. This version allows you to control the crust and toppings, without sacrificing flavour. Topped with plenty of vegetables, this pizza provides 1 ½ servings of Vegetables and Fruit per portion!
 Ingredients:
4 small Whole wheat pitas (10.2 cm) 4 small
1 cup No salt added tomato sauce 250 mL
1 cup Fresh spinach leaves 250 mL
1 medium Red pepper, sliced 1 medium
1 medium Tomato, sliced 1 medium
¼ medium Red onion, chopped ¼ medium
1 cup Cooked chicken breast, chopped 250 mL
1 large Carrot, peeled and grated 1 large
1 cup Part skim mozzarella cheese, 20% M.F. or less, grated 250 mL
Directions:
Preheat your oven to 450–500°F (230–260°C).
1. Use a pizza stone if you have one, otherwise a baking sheet will do. If using a pizza stone, put it in the oven while it preheats.
2. Start with whole wheat pitas. Spread with ¼ cup (60 mL) of tomato sauce. Leave a small margin around the edge.
3. Add toppings: baby spinach, sliced red pepper, fresh tomato slices, and chopped red onion (other options include thinly sliced zucchini, eggplant or mushrooms). Add chopped cooked turkey or chicken.
4. Top with grated mozzarella cheese. Bake for about 10 minutes or until the cheese melts and bubbles and the edges are golden.
Makes 4 servings (1 pizza/ 247 g)
Source: developed by Terry Bullick for Apple, Alberta Health Services health and wellness magazine.
Per Serving: 250 calories, 6 g fat, (3.5 g saturated fat, 0 g trans fat), 340 mg sodium, 27 g carbohydrate, 23 g protein, 5 g fibre.
For more recipes, see Inspiring Healthy Eating at Healthyeatingstartshere.ca