What Does Partnership in Health Care Mean to You?
Monday, October 3, 2016 4:06 PM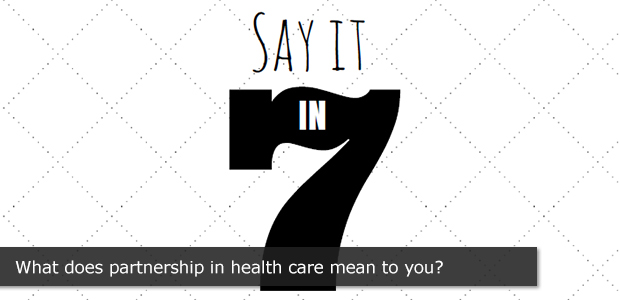 Patient and Family Centred Care Week is coming soon (Oct. 17-21), and this year's theme is Growing Partnerships. Partnerships are central to achieving AHS' vision of Healthy People. Healthy Communities. Together.
One of the events leading up to the week is the Say it in 7 Challenge. This is an opportunity for patients, families, and AHS staff and physicians to answer this question:
If you only had 7 words to describe the value and importance of partnerships between patients, families and our health-care system, what words would you choose?
Your submission can take a variety of forms, so long as you can 'Say it in 7'.  Perhaps you are a poet and want to create a haiku.  Maybe you prefer acronyms and want to use the letters in PARTNER to lead the words in your submission.   As long as your statement is about partnership, and is seven words in length (no more, no less), we'd love to hear from you!
Here are just a couple of examples in advance to give you some ideas: 
• Our hearts and souls belong at work – Erane
• Patients, families, and providers as one team – Richard
• Working to improve my physical health, together – Sean
Please share your seven-word submission in the comments section below. You can also join the conversation on social media by using the hashtag #sayitin7AHS.