Beet Salad
Thursday, October 20, 2016 3:12 PM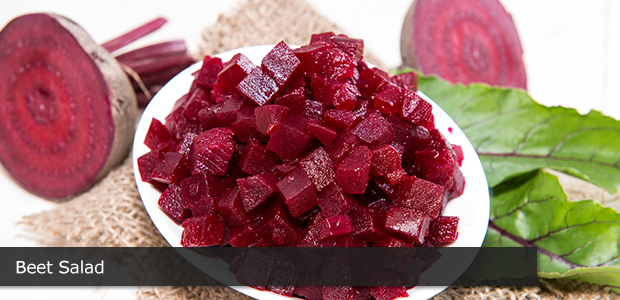 Try this seasonal and delicious beet dish as part of your plan to eat 7–10 servings of vegetables and fruit every day.
 Ingredients:
4–5 cups Fresh beets 8 small
6 Tbsp Red wine vinegar 90 mL
4 Tbsp Canola oil  60 mL
1 tsp Sugar  5 mL
½ tsp Salt  2 mL
½ tsp Black pepper  2 mL
2 cloves Fresh garlic, minced
or 1 tsp (5 mL) garlic powder 2 cloves
1 tsp Dried sage, optional  5 mL
⅓ cup Fresh parsley, minced 75 mL
Directions:
1. Wash beets and scrub skin with vegetable brush.
2. Trim both ends of beets (do not peel).
3. Place beets in a medium pot, cover with cold water and bring to a boil. Simmer on medium heat.
4. Add small amounts of water as needed until beets are tender (beets should absorb all the cooking water to maintain their color).
5. In a small bowl, mix oil, vinegar, sugar, salt, pepper, garlic, sage and parsley.
6. Add to hot cooked beets, toss gently.
7. Serve warm or cold as a snack or as a side dish.
Makes 6 servings (125 mL/ ½ cup/ 132 g)
Per Serving: 130 calories, 9 g fat, (0.5 g saturated fat, 0 g trans fat), 280 mg sodium, 11 g carbohydrate, 2 g protein, 2 g fibre.
For more recipes, see Inspiring Healthy Eating at Healthyeatingstartshere.ca