Vegetable Samosas
Wednesday, December 7, 2016 2:35 PM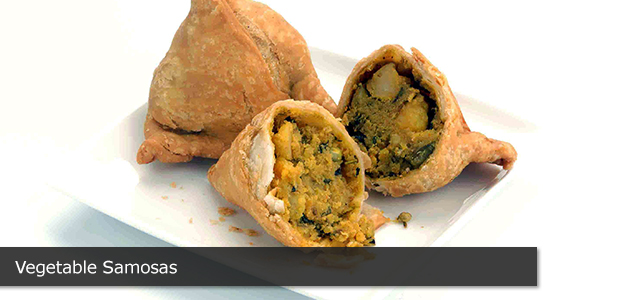 Restaurant versions of this Indian dish are often deep fried and high in salt. This homemade version is baked to limit the amount of added fat. Alberta Health Services recommends preparing food at home to control the amount of salt you eat.
Ingredients:
For the dough:
1 ½ cups All purpose flour 375 mL
4 tsp Butter or ghee 20 mL
½ tsp Salt 2 mL
6 Tbsp Water (enough to make firm dough–adjust water as necessary) 90 mL
For the filling:
2 ½ cups Potatoes, peeled and diced small 625 mL
1 cup Frozen peas 250 mL
3 Tbsp Canola oil 45 mL
½ tsp Cumin seeds 2 mL
1 inch square Ginger root, peeled and grated 1 piece
½ tsp Salt 2 mL
1 tsp Ground coriander 5 mL
½ tsp Ground turmeric 2 mL
½ tsp Chili powder 2 mL
1 tsp Dried mango powder 5 mL
1 Green chili, de-seeded and finely chopped 1
Directions:
For the dough:
1.  Rub butter or ghee into flour until the mixture is crumbly.
2.  Add salt and water to make a firm but pliable dough.
3.  Cover the dough and let rest for at least 30 minutes.
For the filling:
1.  Cook potatoes in a pot of boiling water for 5 minutes.
2.  Add peas and cook for another 5 minutes. Drain well.
3.  Heat oil in a skillet and sauté the ginger and all the spices.
4.  Add peas, potatoes and diced chili.
5.  Cook for one minute; set aside.
To assemble:
1.  Preheat oven to 400°F (200°C). Lightly spray a baking sheet with non-stick cooking spray. Set aside.
2.  Divide pastry into 12 pieces. Roll out each piece into a thin circle and cut each circle in half.
3.  Put a spoonful of filling into each half and roll into a cone.
4.  Press the edges firmly to seal.
5.  Place samosas onto prepared baking sheet. Brush top with vegetable oil.
6.  Bake in a 400°F (200°C) oven for 20–25 minutes or until golden.
7.  Serve warm or cold as an appetizer or snack.
Makes 12 samosas; 6 servings (2 samosas/ 158 g)
Per Serving: 280 calories, 10 g fat, (2 g saturated fat, 0 g trans fat), 440 mg sodium, 42 g carbohydrate, 6 g protein, 3 g fibre.
For more recipes, see Inspiring Healthy Eating at Healthyeatingstartshere.ca