Look After You During the Holidays
Wednesday, December 14, 2016 4:00 PM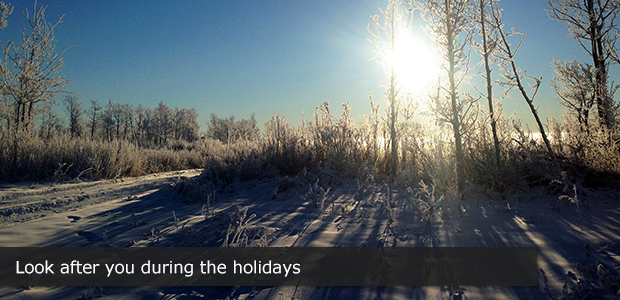 I don't really like Christmas. I'll put it right out there.
I love Christmas carols and I love spending time with my kids and husband. I like being cozy on the couch when it's freezing outdoors. I love going for long walks in wintry nature. I like eating raspberry marshmallow fluff salad at family get-togethers (even if it's not terribly healthy, despite being called 'salad.' Moderation, right?)
But still, I just don't love Christmas. I lost my mom when I was 11. She died in February and for years the holiday time was really tough for me. It's still tough. Christmas can bring back difficult memories. I know I'm not alone in this – while the holidays are meant to be a time of celebration, they can also make losses particularly stark.
I struggle with how commercialized Christmas has become, too. I want it to be about happy times with family and being near to those you love, not Santa Claus and piles of expensive presents. I find it sad and stressful, how materialistic the season has become.
So Christmas isn't always that easy for me, as it's not for many others.  And this year, after the wildfire, we're all up against a lot more than usual in Fort McMurray.
There are a lot of people working hard to pull the community together. I've seen that in many different ways and it's wonderful. Still, I don't want to sugarcoat it: it's not easy here. People have lost so much. There have been a lot of layoffs, too, and that's really tough, financially and emotionally.
It's not going to be the easiest festive season and it's important we're aware of that. The first step is to make sure we're taking good care of ourselves and finding time for activities that make us feel better, calmer and more relaxed.
Spending quality time with my loved ones is important for me – playing board games, watching a movie or just talking. Going for a walk is another of my favourite ways to shake off stress and feel centered again. Walking on the trails every day with Artemis, my beloved yet slobbery Great Dane, helps keep me healthy and in a positive state of mind.
And if you're finding that self-care isn't enough for you right now, that's okay. If you need help, that's perfectly normal and even expected, after a disaster. Make sure you reach out. Speak to a trusted friend or colleague. Call the Mental Health Helpline (1-877-303-2642) or come to the Walk-In Counselling Services at 10217 Queen Street. Or call Health Link at 811 to learn more about the resources available and which ones might be best for you. This list may also help: http://www.albertahealthservices.ca/assets/news/advisories/ne-pha-wildfire-mental-health-resources.pdf.
Take good care this holiday season. And because I know you're all dying to have it, here is my recipe for raspberry marshmallow fluff salad. Just try to eat a few vegetables too, okay?
Raspberry Marshmallow Fluff Salad
Ingredients:
6 oz (large-size) package raspberry Jell-O
1 1/2 cup boiling water
1/2 cup sugar
2 packages frozen raspberries (1 bag)
2 cups whipped cream or Cool Whip
1 cup mini marshmallows
Directions:
Dissolve sugar and Jell-O in boiling water.
Mix in frozen raspberries until Jell-O mixture turns syrupy.
Stir in whipping cream or Cool Whip and marshmallows.
Chill for 4 hours and serve.