Glenrose Staff Chime In at Christmas
Thursday, December 22, 2016 1:05 PM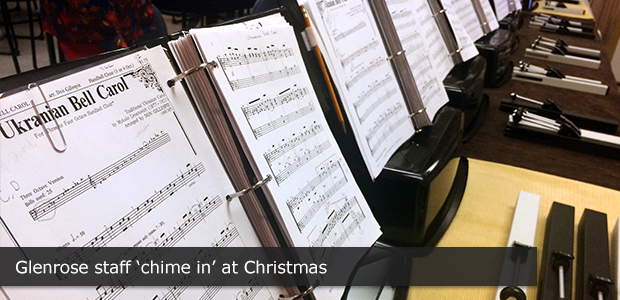 A hospital is not the first place one chooses to spend the holiday season. Yet inevitably there are patients that need to be in the hospital at this time.
Throughout our AHS sites, staff and volunteers bring the spirit of the season to patients and families. At the Glenrose Rehabilitation Hospital, the December calendar is filled with many special events like concerts, Oilers visits, Gingerbread House Making and Ringing in the New Year.
Every year our Glenrose Staff Chime Choir holds several Christmas Concerts. I have been a member of the choir for the past six years and look forward to our performances on the patient units throughout the year.
The choir is made up of staff from all areas in the hospital. Our conductor, Lois, is our Musician in Residence, whose position is made possible by a grant from the Alberta Foundation of the Arts.
We start practicing our Christmas repertoire in October. As we meet at lunch time only once a week, we need to start early. During December, the choir schedules four performances for patients throughout the hospital.
As we are a diverse group with varying levels of musical ability, we stick to the familiar carols. We look forward to seeing and interacting with our audience, who every year are enthusiastic and appreciative of our efforts. We get some laughs, lots of applause, and often some singing along – which we enjoy as much as the audience.
Our performances will often 'drum up' business for our patient chime time too, as Lois teaches chimes to patients as part of their therapy.
I so enjoy my time away from work to be a part of the chime choir, and am so thankful for our Recreation Therapy staff and our many volunteers who organize and facilitate all our holiday special events.