Breakfast Burritos
Wednesday, January 4, 2017 1:21 PM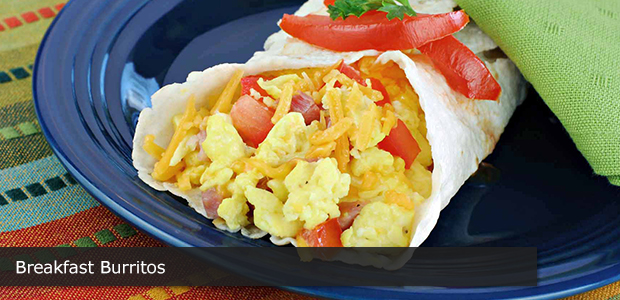 When setting goals for healthier eating, choose small changes that will work for you - like making time for breakfast. These burritos are quick and easy to prepare, making them a great weekday breakfast choice.
 Ingredients:
6 medium Eggs 6 medium
2 Tbsp Water 30 mL
½ tsp Pepper 2 mL
1 Tbsp Vegetable oil  15 mL
4 Flour tortillas (10 inch)  4
2 medium Tomatoes, diced  2 medium
1  Green onion, chopped 1
½ cup Reduced fat cheddar cheese, 21% M.F. or less, shredded  125 mL
Directions:
1. Preheat oven to 350°F (175°C).
2. In a medium bowl, mix eggs with water and pepper. Whisk with a fork until smooth.
3. In a heavy skillet, heat oil. Add egg mixture and stir gently until eggs are completely dry and scrambled. Remove eggs from the skillet.
4. Wrap flour tortillas in aluminum foil and heat in a 350°F (175°C) oven until warm and easy to fold.
5. Fill warmed tortillas with scrambled eggs and top with tomatoes, green onions, and cheese.
6. Wrap into a burrito.
Tip: Try using whole grain tortillas or top with other vegetables such as red or green peppers.
Makes 4 servings (1 burrito/ 228 g)
Per Serving: 400 calories, 16 g fat, (4 g saturated fat, 0 g trans fat), 510 mg sodium, 43 g carbohydrate, 18 g protein, 3 g fibre.
For more recipes, see Inspiring Healthy Eating at Healthyeatingstartshere.ca