Black Bean Casserole
Monday, February 27, 2017 2:34 PM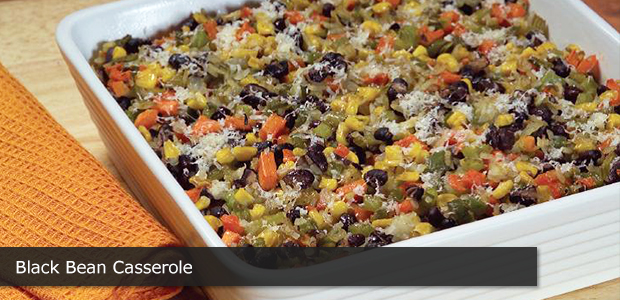 This casserole is very high in fibre and bursting with flavor. The mix of black beans and vegetables helps boost the fibre of this recipe. One serving provides 14 g of fibre.
 Ingredients:
1 Tbsp Olive oil 15 mL
⅓ cup Onion, diced 75 mL
2 cloves Garlic, minced 2 cloves
½ cup Celery, chopped 125 mL
1 cup Green bell pepper, chopped 250 mL
2 medium Carrots, chopped 2 medium
1–12 oz can No salt added kernel corn 341 mL
½ tsp Cumin 2 mL
⅛ tsp Pepper ½ mL
1–19 oz can  No salt added black beans, drained and rinsed 540 mL
1–4 oz can Green chile peppers, chopped 127 mL
1 cup Cooked brown rice 250 mL
¼ cup  Parmesan cheese 60 mL
2 Tbsp  Cilantro, chopped
Non-stick cooking spray 30 mL
Directions:
1. Preheat oven to 350ºF (175°C). Lightly spray a 9 x 9 inch (23 x 23 cm) casserole dish with non-stick cooking spray.
2. Heat the olive oil in a skillet over medium heat and cook the onion, garlic and celery until tender-crisp. Add green peppers and carrots. Continue cooking until carrots are tender crisp.
3. Add corn, cumin, pepper, black beans, chile peppers and cooked rice.
4. Mix together and place in the casserole dish. Sprinkle with Parmesan cheese.
5. Cover casserole and bake for 30 minutes or until heated through.
6. Sprinkle with cilantro before serving.
Makes 4 servings (375 mL/ 1 ½ cup/ 408 g)
Per Serving: 330 calories, 7 g fat, (2 g saturated fat, 0 g trans fat), 410 mg sodium, 55 g carbohydrate, 15 g protein, 14 g fibre.
For more recipes, see Inspiring Healthy Eating at Healthyeatingstartshere.ca