Find Answers at HealthyEatingStartsHere.ca
Tuesday, March 7, 2017 10:40 AM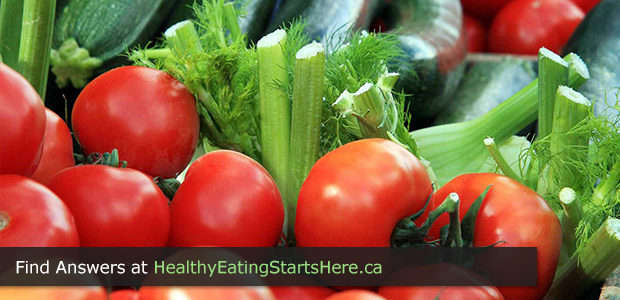 As a registered dietitian I often hear clients say "I know I should be eating more vegetables." Sometimes they struggle to find vegetables they enjoy, or to find easy ways to fit vegetables into their day, or sometimes it's knowing how to prepare vegetables in ways that are quick, healthy, and tasty. Can you relate?
AHS dietitians are here to help! March is Nutrition Month and this year we're helping Albertans 'Find Answers at HealthyEatingStartsHere.ca'. Whether your goal is to make the most of your grocery dollars without sacrificing health, choose healthy drinks, build healthier meals, or, like many of my clients, eat more vegetables and fruit, you'll find lots of great ideas, tips, and recipes at www.healthyeatingstartshere.ca .
Eating more vegetables and fruits has a host of benefits, from reducing the risk of certain cancers, stroke, and heart attack to helping to keep your blood pressure healthy. Plus, they add a beautiful burst of colour to your meals and snacks! At each meal aim to make half your plate vegetables and fruit. Here are some tips to help you get more vegetables and fruit on your plate:
• Use frozen vegetables. They're just as nutritious as fresh, typically cost less and are super-easy (no washing or chopping required!).
• Top yogurt with fresh fruit at breakfast or a snack.
• Shred carrots or zucchini into stews, chili, rice dishes, or stir-fries.
• Add spinach or chopped vegetables to pasta sauce or lasagna.
• Keep fruit on the kitchen counter or table for a "grab-and-go" snack. Apples and bananas are some of my favourite grab-and-go fruit!
• Keep cut up vegetables or baby carrots at eye-level in the fridge. If you can easily see them every time you open the fridge, you'll be more likely to eat them.
• Going to a potluck or get-together? Bring a vegetable platter with hummus.
• When making a salad as part of supper, make enough to last for a couple of days.
• Experiment with different ways of preparing vegetables. Roasting is an easy and delicious way to prepare vegetables:  Simply drizzle some olive oil, sprinkle fresh ground pepper and a bit of salt, and roast in the oven until tender-crisp.
What do you do to eat more vegetables and fruits? Share your ideas below!