On the folly of planning and a happy ending anyways
Wednesday, March 8, 2017 2:52 PM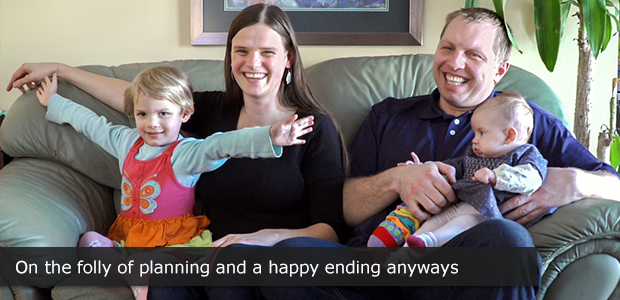 During the recent birth of her baby girl, Patrycja's labour and delivery took some unexpected turns. But even with complications and changes in the plans they had made, she says the Labour and Delivery team who cared for her made sure that her needs came first and her desires were respected. To celebrate the care she received and her daughter's third birthday, her family surprised the nursing team at the Royal Alexandra Hospital with some treats and baby cuddles. Watch their special reunion here: https://www.youtube.com/watch?v=VE9SmUHqBLg
This is her story...
Helena wasn't supposed to be born on a Sunday morning in September. She was supposed to be born on a Monday in October but her sister Natalia, in a fit of toddler pique, smacked my swollen belly and brought my pregnancy to an abrupt end. The labour was different from my previous two, going from slow and irregular to tearing-me-apart pain in an instant. We pulled into the Royal Alex with me holding on to the roof of our car and howling for someone to get ready because this baby was a-coming. To my surprise, the doctor told me I was only five centimetres dilated. Five centimetres? How could that be? At this stage of pain I was always told to start pushing. It took another hour of hard labour but finally we got there.

I pushed and pushed. No baby. I pushed some more. I raised my legs, I tried my yoga breath, I huffed and puffed. Baby wasn't coming down. I pushed until my hips cramped up. I pushed until my thighs cramped up. I pushed until I thought I could push no more but still no baby. The doctor and nurse had a quiet talk. The Ob-Gyn came in and tried turning the baby. I started crying. Was this going to end in a c-section? I couldn't bear the thought. I had always had my babies without so much as a Tylenol. I treasured the immediate skin-to-skin contact and the sweet little suckling mouth nuzzling at my breast. I was home within hours of my delivery. This time I felt that things were spiraling out of control.

Then something amazing happened. The doctor came and talked to me. Conferred with me, if you will, as though I, as a patient had something to say about what was about to occur.
The baby was the wrong way and probably wrapped in her cord. This could end with forceps or a c-section but first they would like to try something. They know my preference against pain management but if the labour could be slowed with an epidural, we may have a chance to ease that baby out.
I said ok. I trusted their judgement. I wanted the least of whatever they were going to give me and that's what I got. I still felt pain but things slowed down and with each contraction I would push just a little thinking of the baby I was soon going to meet.

The nurse on duty stayed with me through the night, talking to me and keeping me calm. Shortly before her shift was about to end, she checked my progress and exclaimed that she could see the head. The doctor came and even though the day nurse was there, my nurse said she would see it through. So I pushed that baby out and Helena was born at 7:05 am - five minutes after the end of the night shift.

I didn't go home that same day, like I had before but it was ok. With baby on my breast, I had what would be my last day of rest for a long, long time.