Helping Kids to Smile Healthy
Monday, April 3, 2017 12:31 PM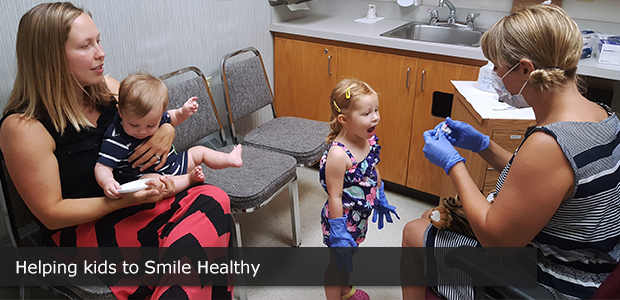 "Every time you smile at someone, it is an action of love, a gift to that person, a beautiful thing"-Mother Teresa.
My passion for oral health really started when I was eleven years old. I was playing basketball for my elementary school team and reached down to grab a ball when my front teeth collided with the knee of another player. I felt my two teeth crumble and the taste of their chalky ruminants on my tongue caused instant tears. Looking back now I realize how lucky I am that I didn't completely knock out both of my teeth, but at the time being left with two jagged, half broken front teeth felt like the end of the world! That's the funny thing about oral health, when it's good we don't think about it at all, but when it's bad it is all you can think about.
Through my position with the Population Health Promotion Program I have been able to share my passion for oral health with the communities in Southern Alberta. Our oral health team provides free visual checks and fluoride varnish to children aged 12 to 36 months, in all health units across the zone. The school program allows us to educate the students on good oral health and apply sealants and fluoride varnish for children in kindergarten, grade one and two.  Last year, with the arrival of hundreds of refugees from Syria and the Middle East, the oral health team partnered with public health nursing, addictions and mental health, tobacco reduction and maternal health to provide multidisciplinary clinics where newcomers could receive public health services in one location. Since the first clinic in January 2016, we have seen almost 300 newcomers in the South West Zone.
Working closely with the refugee population, I was enlightened by the lack of preventative and public health services provided in developing countries. This realization sparked an interest I always had to volunteer and spread my passion for oral health globally. In October of 2016, I travelled with a dental volunteer group, Kindness in Action, to Tanzania Africa. There I provided oral health education and dental hygiene services in remote communities for two weeks. The experience deepened my passion for public health and motivated me to enrol in the Master of Health Studies program, with a teaching and leadership focus. Equipped with a new outlook on global health and public health education, I hope to continue to share my passion for oral health both locally and throughout the world.