Reflections on the 2016 Fort McMurray Wildfire
Monday, April 10, 2017 12:52 PM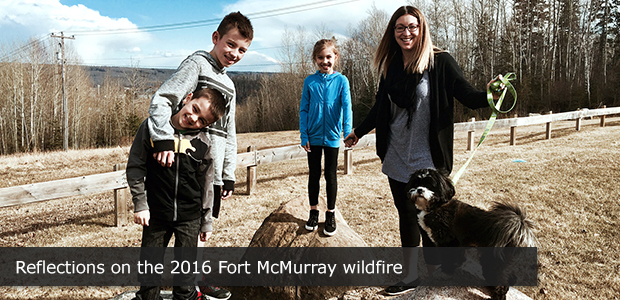 I remember standing in front of my children's school with their principal, looking at the flames in the forest behind our home. "This doesn't look good," he said.

And as we know, it wasn't. But I challenge you to think about this: recognizing the myriad of emotions and experiences of May 3, 2016 in Fort McMurray, how are you now, a year later?

Even if you do not live in the region, the disaster struck a chord with many Albertans. Evacuations in the province always seem to touch everyone, directly or indirectly. People step up to help, offering food, shelter, toiletries, diapers, and pet supplies. Evacuation centres pop up everywhere, welcoming dazed, tired people. When we evacuated, we were flown to Calgary. Landing at Shell's Aerodrome, we found staff had set up tables with basic necessities but someone had also gone to purchase car seats, small toys, and Tim Horton's. Small, welcome luxuries in a completely crazy time. We took a cab to our friends' home in High River. Survivors themselves, people there welcomed us with open arms. Our arrival in the community stirred up emotions in many, demonstrating to me that recovery, does indeed, take time.

Fort McMurray is a community designed to deal with emergencies; safety is woven through every area of our lives here. This region is full of people from somewhere else; other provinces, other countries, infused with those unicorn-like locals, making us unique in a way few Canadian cities are. We're strong, we're tough, we're resilient… but where do we go when we feel anything but?
I reflect on my own reminders: the smell of smoke that started this March with controlled burns. The gas light in my car that still occasionally flicks on, even though I promised myself I would never let my gas tank go below half again. Kids that I see in community who talk about it. My kids. Front line workers who need relief. Everyone is trying but we're stretched, emotionally, financially, and physically. "Fort Mac Strong" goes without saying, but sometimes even fighters need a break. So how do you look after you?

Be kind. Rest. Self-care is important. We know this, but how many of us are kind to ourselves and carve out a few moments each day for this? A walk. Coffee with a friend. A nap. Reading. Yoga. Meditation. Painting. Carving. Engage with one another. Listen. If you've had enough, if you feel done with talking about the fire that is ok too. Just know where to go for help if you need it.

When I get up on May 3rd, it will be a normal day in my house with the usual morning chaos of making lunches, letting the dog out, getting the kids off to school and myself to work. And maybe that's a good thing. I imagine this date on the calendar will always hold significance to me but I'm choosing to reflect on the good I saw that day and in the days since. Find the space in your day to reflect, in whatever way works for you, in whatever capacity.

And if you need help, help is there. If you're not doing well and would like to connect with a professional, AHS provides several options for that. For resources, call Health Link toll-free: 811 or the Mental Health Helpline 1-877-303-2642.

Visit http://www.albertahealthservices.ca/assets/news/advisories/ne-pha-wildfire-mental-health-resources.pdf for a list of Alberta Health Services resources and links or the Help in Tough Times webpage: www.ahs.ca/HelpinToughTimes

You can also speak with your primary care provider/family physician if you are experiencing stress or need support coping.

In addition, we know that the upcoming one-year marker of the wildfire will be bringing up memories for many people. If you have thoughts, stories or reflections to share, join together with us at www.ahs.ca/oneyearlater to do so.