Comfort for the Soul
Thursday, April 20, 2017 10:24 AM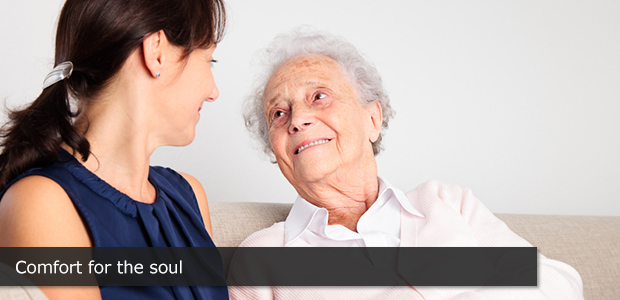 The following article is a part of AHS's Passion for Health and volunteer initiative, showcasing some of the options available for volunteering within Alberta Health Services.
For Ruth Eastman, being a volunteer caregiver has always been a natural extension of who she is. As a vigil coordinator for the No One Dies Alone (NODA) program at Red Deer Regional Hospital Centre, she's a gentle touch, a good listener and a welcome comfort to patients in their time of need.
"Volunteering is a great way to give back to the community," says Eastman. "I take great pride in my role as a NODA coordinator and volunteer, and find it comforting to know that our actions have made it easier for patients to exit this world knowing they are not alone."
An active volunteer for more than 20 years in both hospital and community centres, and with a professional background in counseling and clinical hypnosis, Ruth has always felt the call to volunteer with palliative patients. Her caregiver nature, professional background and years of volunteer experience have made Ruth a perfect asset to the compact team of six volunteers who support NODA in Red Deer.
"I have lost family and friends to cancer, and I was able to be with them at the very end," says Ruth, adding how her own personal experiences with the death of a loved one influenced her desire to join the program. "It was comforting for me to know that the people I loved weren't alone when they passed away."
In her dual role as NODA coordinator and volunteer, Ruth can guarantee that, like her family and friends, someone is always able to sit with a patient in need. "My role as vigil coordinator is to ensure a NODA pallative care volunteer is scheduled to sit with a patient nearing the end of their life. As a volunteer, my role is to help patients, along with their friends and family, find comfort through listening and supporting them with empathy and compassion."
Volunteers play an important role in ensuring comfort care is given to pallative patients. That care can take the form of simple gestures, such as the offer of a warm blanket, a hot cup of tea, or assistance with eating. Touch and talk therapy are also important.
"As volunteers, we have more time to sit with a patient," says Ruth. "Patients need the outlet to be able to speak about their fears with someone who understands and can support them."
Each NODA volunteer is provided with palliative training to prepare them for this challenging role. NODA training, palliative care, bereavement support facilitator training and other learning opportunities are part of the package. Educational sessions are also available on the physical, emotional and spiritual aspects of the dying process.
Ruth adds she strongly believes in the relief NODA volunteers bring — and in the importance of having compassion for every person in their final moments.
"Being at someone's bedside as they move into their final journey can be emotionally challenging,but it is, ultimately, a very rewarding experience."
Find more information on volunteering with Alberta Health Services.
No One Dies Alone (NODA) is a program that pairs volunteers with patients who are actively dying (expected to die within 48 to 72 hours) and who do not have family or friends available to be with them during this time. NODA is also for patients whose family members — exhausted by the mental and physical toll of caring for their loved one — could use some respite or support.