One Year Later, the Healing Continues
Tuesday, April 25, 2017 11:22 AM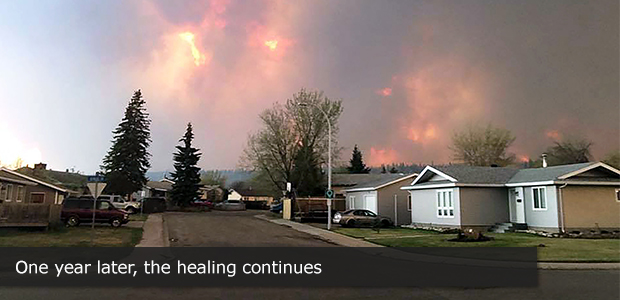 There is a photo that my wife took, just before she evacuated from the lower townsite with our two sons, Dylan and Ben, on May 3rd. She was standing on our front step facing south, toward Abasand, which was fully ablaze by that time. I was on the other side of the smoke and flames, evacuated south of the community in the Mark Amy Treatment Centre. I had started my day by hosting a workshop out there. Many of us tried to get back to our homes and families when we found out that the situation had become dire; most of us couldn't get through the traffic, smoke and flames and ended up turning back.
I had looked at the photo my wife took a hundred times, but only really saw it recently. There, in the foreground at the bottom of the frame, was a little tuft of hair. It hit me like a kick to the stomach. I thought it was the top of my younger son's hair. It reminded me that I wasn't there to protect him, to protect them. That is the trauma that I carry from that crazy day.
The irony of my revelation in seeing that picture anew is that I infused it with my own narrative. After sharing the story of my reaction to the photo, Heather informed me that it wasn't Ben's hair on the bottom edge of the frame; it was hers. Her iPhone camera wasn't working very well on May 3rd. She was unable to take pictures the normal way; she could only use the selfie function. She turned her back to the fire, raised the iPhone above her head, and snapped.
There are so many micro memories and feelings that have popped up in the year since our collective lives got upended by the Horse River Fire. I'm guessing that it is human nature to become highly aware and tuned in during a crisis. Even as I sit here typing this I am replaying moments from that day in my mind, like I have done a thousand times.
Over 80,000 of us have unique memories, emotions and impacts from the fire and evacuation. Many lost homes and possessions; many experienced the greatest moment of terror in their lives. All of us had our lives disrupted in a way that few of us could have imagined.
In the time that has passed since we returned to the community on June 1st, I have grown more aware of stress and my personal triggers. I sleep more often than I did before the fire including a few mandatory minutes during my lunch break and often a short snooze at the end of the work day before making dinner. I am more mindful about what I need to stay healthy and productive. My boundaries have become more defined, as have my priorities.
I am optimistic about the future of our community though realistic about the fact that recovery and healing has only just begun. We have made it through the first year; there is a lot of heavy lifting yet to do.
---
AHS Support

We know that the upcoming one-year marker of the wildfire will be bringing up memories for many people. If you have thoughts, stories or reflections to share, join together with us at www.ahs.ca/oneyearlater to do so.
If you are struggling, there are mental health resources available. Please visit http://www.albertahealthservices.ca/assets/news/advisories/ne-pha-wildfire-mental-health-resources.pdf for a list of Alberta Health Services resources and links or the Help in Tough Times webpage: www.ahs.ca/HelpinToughTimes
You can also speak with your primary care provider/family physician if you are experiencing stress or need support coping.