#YESThisIsNursing: AHS celebrates unique nursing roles
Friday, May 5, 2017 9:39 AM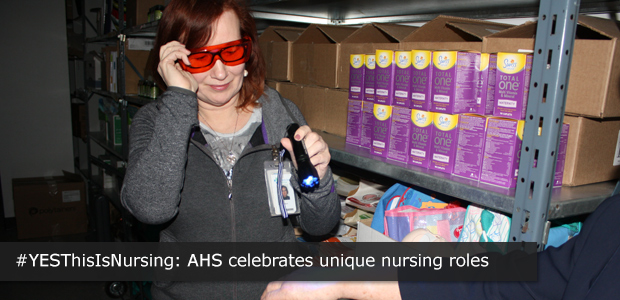 The theme for this year's National Nursing Week is #YESThisIsNursing. It was chosen to celebrate nurses in their many different roles, both traditional and nontraditional. In the spirit of this year's theme, I wanted to share what I feel are my unique contributions in my nursing role as a Senior Practice Consultant with Nursing Professional Practice and Education.
My nursing journey has taken me from the bedside to supporting AHS nursing practice. In this role, I am often uniquely situated to add a nursing voice to many projects that are underway in our organization. I am able to advocate for excellence in nursing care and patient and family centered care while working away from the bedside.
For me, one of the most important parts of what I do is assisting nurses in any setting with their practice. This means working with AHS nurses to improve how we carry out our nursing jobs. My role gives me the opportunity to address nursing issues that affect safe, competent nursing care both immediately and in the long term. The practice questions that come to me range from simple clinical or scope of practice issues, to complex practice change questions that require networking with a variety of experts.
As a Senior Practice Consultant my role continuously evolves and expands based on the needs of AHS nurses.
These are only a few of the reasons why I feel my nursing role and contributions are unique.
I would like to invite nurses within AHS to share their unique roles and contributions. Please comment here or on social media using #YESThisIsNursing.
---
National Nursing Week: May 8-14, 2017
It's National Nursing Week and we are celebrating AHS nurses. Thank a nurse on Thanks for Caring or by using #YESThisIsNursing on social media.
Behind the Mask — Inspiring Tales of Nursing
Apple magazine invited Alberta Health Services and Covenant Health nurses to share their stories about the frontlines for a chance to win a pair of tickets to the opening night of Broadway Across Canada's "Phantom of the Opera".
Thank you to those who shared their stories and insight. The following nurses won tickets:
Calgary: Lana Viznaugh and Georgia Meyers
Edmonton: Karen Coombes and Michael W. Wilson
Winners will be contacted via email.