The Importance of Being Ready
Monday, May 8, 2017 11:30 AM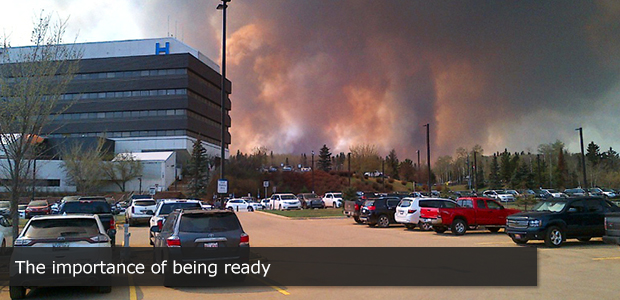 Are we ready?
I wasn't.
I'm paid to be. I'm expected to be. And on paper I was. But I wasn't. A year ago I had supplies ready for most possible disasters, in my home.
And it turns out, when I really needed those things, they were at my home and I was at work. It was May 3, 2016. I was head of Protective Services at the Northern Lights Regional Health Centre in Fort McMurray. It was a slow morning that turned into the beginning of a remarkable evacuation event (http://www.albertahealthservices.ca/news/features/2017/Page13784.aspx), a recovery process that included two field hospitals. I didn't know that I wasn't going to go to bed again until the following Thursday, and that the bed I'd sleep in wouldn't be mine.
I didn't know that the supplies carefully assembled in my apartment would be useless to me. Since they weren't at work or in my car, they might as well have been on the moon.
To this end, my advice to be ready would be this: if you feel on edge, like I was that May morning, listen to that edge - which I will fully admit I didn't do. I told myself I was being paranoid. That showing up at the hospital with a vehicle packed for the apocalypse would only worry people. I wish I had listened to that edge…if I had, my experience in the coming days would have been significantly more comfortable than it was.
Make sure you have a bag of emergency supplies (like I did) and put it in your car (like I didn't). Alternatively, pack a second bag and keep it in your car or in your office. Keep your tank topped up instead of driving around town to nearly empty. Have a plan for your pets, for your children, and for any senior citizens who depend on you. More than just having it, make sure that people know what it is, and are comfortable with it.
I've been saying for a year now "If on Tuesday morning I had known that Tuesday afternoon was going to be Armageddon, I would have packed differently." I'm not advocating paranoia, but I am advocating vigilance and preparedness.
Sometimes days get out from under us. Just ask the citizens of Fort McMurray, or Slave Lake, or High River. Sometimes things don't go the way we're expecting them to go. We can have all the supplies and plans in the world but if they aren't where we are when we need them and if they aren't something the participants in the plan have discussed, then they aren't going to be the help we hope they will be.
So since this is Emergency Preparedness Week (http://www.aema.alberta.ca/emergency-preparedness-week), take some stock of your situation. Who are you responsible for? How ready are they? How ready are you? We could all be a little more ready for things to go sideways.
Let's start with personal plans, plans for our pets (http://www.aema.alberta.ca/documents/EP_for_Your_Pets.pdf) and dependants, and some simple supplies in easy to carry bags. Let's start with ensuring we know where we'd go in the event of a disaster, how we'd get there, and what we'd need for that journey. The Alberta Government's Personal Emergency Preparedness page (http://www.aema.alberta.ca/personal-emergency-preparedness) is a great place to start and learn more about personal emergency preparedness. You can also check out the AHS Personal and Family Disaster Preparedness Guide (http://insite.albertahealthservices.ca/6040.asp) and see how you can prepare and develop a plan.
I have found, and believe that many others will likewise find, that personal preparedness leads to calm peace of mind.
Want to share your thoughts, photos, reflections or thanks about the Fort McMurray wildfire? Submissions are still open for AHS' virtual scrapbook: One Year Later. Visit www.ahs.ca/oneyearlater for more information and check out the scrapbook at www.oneyearlater.ca.