Banana Berry Blast Smoothie
Tuesday, May 30, 2017 2:32 PM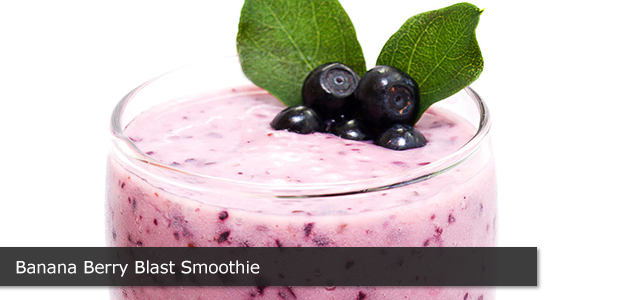 This simple and healthy smoothie is naturally sweetened with fruit, so there is no need for added sugar. It also counts toward your daily servings of 2 food groups from Canada's Food Guide (Vegetables and Fruit, and Milk and Alternatives).

Ingredients:
½ cup Frozen unsweetened berries
(blueberries, strawberries, Saskatoons, etc.) 125 mL
1 medium Banana 1 medium
½ cup Low fat plain yogurt 125 mL
½ cup Low fat milk 125 mL
Directions:
Note: Customize your smoothie. For an extra thick smoothie, add a handful of ice to the blender. For a thinner smoothie, add a splash of water.
1. Place all ingredients in blender and blend until smooth.
2. Pour into glasses and enjoy!
Makes 3 servings (150 mL / ⅔ cup / 147 g)
Per Serving: 90 calories, 1.5 g fat, (0.5 g saturated fat, 0 g trans fat), 45 mg sodium, 17 g carbohydrate, 4 g protein, 2 g fibre.
For more recipes, see Inspiring Healthy Eating at Healthyeatingstartshere.ca