Whole Wheat Rhubarb Muffins
Wednesday, June 28, 2017 3:54 PM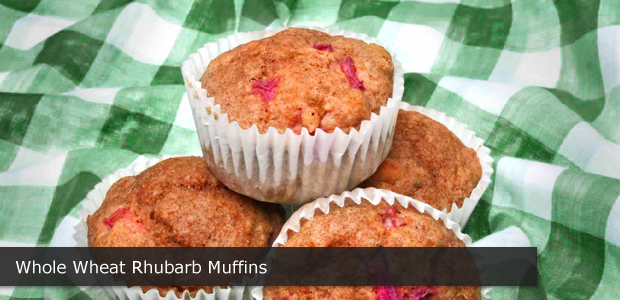 Fibre is good for your health. Health Canada recommends eating 25–30 g of fibre a day. One rhubarb muffin has 3 g of fibre. Baking with whole wheat flour instead of white flour increases the amount of fibre in each muffin.
Ingredients:
2 cups Whole wheat flour 500 mL
3 tsp Baking powder 15 mL
¼ tsp Salt 1 mL
½ tsp Cinnamon 2 mL
1 ½ cups Rhubarb, cut into small pieces 375 mL
2 large Eggs 2 large
½ cup Brown sugar 125 mL
¼ cup Canola oil 60 mL
¾ cup 1% milk 175 mL
½ tsp Vanilla 2 mL
Directions:
1. Preheat oven to 425°F (220°C).
2. Put paper muffin cups into muffin tin (or spray muffin tin with nonstick cooking spray).
3. In a medium bowl, mix flour, baking powder, salt and cinnamon together. Stir in rhubarb.
4. In another bowl, beat eggs with a fork. Add brown sugar, oil, milk and vanilla and whisk together.
5. Add wet ingredients to dry ingredients.
6. Stir mixture only until all ingredients are combined (about 10 seconds). Do not over mix.
7. Use a tablespoon to drop mixture into each muffin tin. Continue until all batter has been used and each muffin tin is filled evenly.
8. Bake for 15 minutes or until firm and muffin bounces back when touched.
Makes 12 servings (63 g)
Per Serving: 170 calories, 6 g fat, (0.5 g saturated fat, 0 g trans fat), 150 mg sodium, 25 g carbohydrate, 4 g protein, 3 g fibre.
For more recipes, see Inspiring Healthy Eating at Healthyeatingstartshere.ca