Chicken Pitas
Wednesday, September 13, 2017 2:32 PM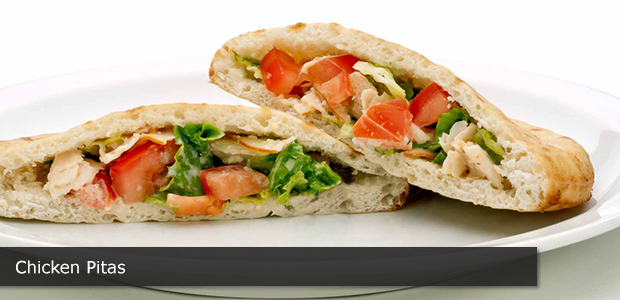 Do you have leftover chicken in your fridge? This quick and easy lunch recipe is perfect for busy weekends or workday lunches. Just assemble and serve with some fruit and a glass of milk!
Ingredients:
4 Whole wheat pitas, 16.5 cm diameter 4
4 medium Romaine or other leafy lettuce leaves 4 medium
1 medium Tomato, sliced 1 medium
2 Chicken breast, cooked and sliced 2
Directions:
1. Lay pitas flat. Cover with lettuce, tomato slices and ½ of a chicken breast each.
2. Fold in half and secure with toothpicks.

Makes 4 servings (1 pita/ 203 g)
Per Serving: 330 calories, 4 g fat, (1 g saturated fat, 0 g trans fat), 420 mg sodium, 37 g carbohydrate, 39 g protein, 5 g fibre.
Source: developed by Terry B. for Apple Magazine, Alberta Health Services' health and wellness magazine.
For more recipes, see Inspiring Healthy Eating at Healthyeatingstartshere.ca