Maple Mashed Potatoes with Turnips and Parsnips
Wednesday, October 25, 2017 9:58 AM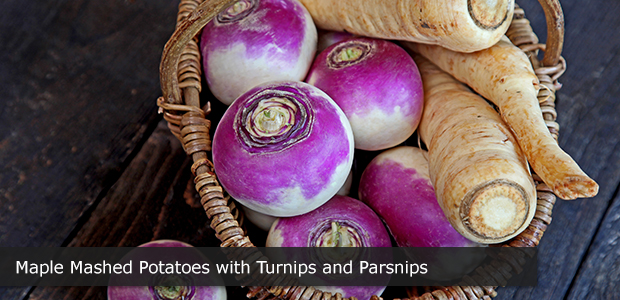 Mashed turnips and parsnips have a similar texture to mashed potatoes. One serving of this delicious dish provides 1 ½ servings of Vegetables and Fruit, helping you meet your goal of 7–10 servings from this food group daily!
Ingredients:
2 medium Potatoes, peeled and diced 2 medium
2 medium Turnips, peeled and diced 2 medium
2 large Parsnips, peeled and diced 2 large
2 Tbsp 1% milk 30 mL
1 Tbsp Soft non-hydrogenated margarine 15 mL
1 Tbsp Pure maple syrup 15 mL
¼ tsp Ground ginger 1 mL
¼ tsp Ground nutmeg 1 mL
¼ tsp Ground white pepper 1 mL
Directions:
1. Put the potatoes, turnips, and parsnips into a medium pot and cover with cool water. Bring to a simmer over medium-high heat. Cook for 20 minutes, or until a chunk of each vegetable can be easily pierced by the tip of a knife.
2. Drain well and mash with a potato masher or pass through a food mill.
3. Stir in milk, margarine, maple syrup, ginger, nutmeg and pepper.
4. Adjust seasonings as needed and serve immediately.
Makes 6 servings (175 mL/ ¾ cup/ 150 g)
Source: developed by Julie van Rosendaal for Apple Magazine, Alberta Health Services' health and wellness magazine. Photo credit: Apple magazine/AHS
Per Serving: 120 calories, 2 g fat, (0 g saturated fat, 0 g trans fat), 65 mg sodium, 23 g carbohydrate, 2 g protein, 3 g fibre.
For more recipes, see Inspiring Healthy Eating at Healthyeatingstartshere.ca