Cinnamon Morning Oatmeal
Monday, January 22, 2018 4:23 PM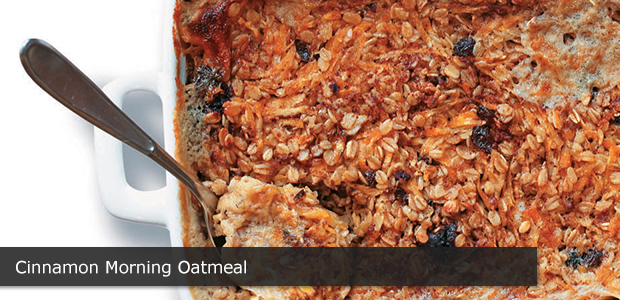 The oats in this recipe make it a great way to start your day with whole grains. If you are short on time in the morning, make this on the weekend, or the night before. Store it in the fridge and reheat for a quick and easy breakfast.
Ingredients:
1 ½ cup Old-fashioned rolled oats 375 mL
1 large Carrot, coarsely grated 1 large
½ cup Raisins 125 mL
1 tsp Baking powder 5 mL
1 tsp Cinnamon 5 mL
¼ tsp Salt 1 mL
2 cups 1% milk 500 mL
⅓ cup Pure maple syrup 75 mL
1 large Egg 1 large
1 Tbsp Canola oil or melted butter 15 mL
1 tsp Vanilla 5 mL
Directions:
1. Preheat oven to 375°F (190°C).
2. In an 8 inch (20 cm) baking dish, combine the carrots and dry ingredients.
3. In a bowl, whisk together the wet ingredients and pour over the oats; stir to distribute everything evenly.
4. Bake for 40 minutes, or until the top is golden and the oats have set. Serve warm.
Makes 6 servings (175 mL/ ¾ cup/ 162 g)
Source: developed by Julie Van Rosendaal for Apple Magazine, Alberta Health Services' health and wellness magazine. Photo credit: Apple Magazine/AHS.
Per Serving: 260 calories, 6 g fat, (1.5 g saturated fat, 0 g trans fat), 200 mg sodium, 45 g carbohydrate, 8 g protein, 4 g fibre.
For more recipes, see Inspiring Healthy Eating at Healthyeatingstartshere.ca