Donning My Own Oxygen Mask
Tuesday, January 30, 2018 2:43 PM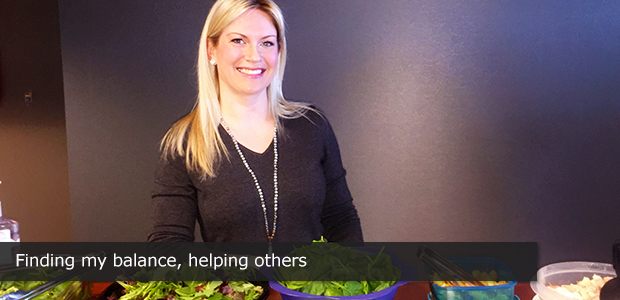 Like all the best things in my life, I get my passion for wellness from my mom, who owned a gym when I was in high school. I remember being struck by how unhappy some new clients seemed. Maybe they lacked energy to keep up with their families. Maybe they weren't comfortable in their bodies, or they didn't feel confident. Maybe they were unhappy at work or in their relationships.
Regardless, they wanted to change. Time after time, I witnessed the impact one person can have on others by coaching them through a basic fitness and healthy eating routine.
My mom also practised wellness at home. We enjoyed home-cooked dinners, nature walks, reading books, and cheering each other on at the gym. My mom's example is at the root of my belief that every aspect of our lives can be influenced by making our own wellness a priority.
When I moved into my own apartment, I put on some extra weight since I was suddenly without my mom's healthy cooking and encouragement to stay active. I searched in vain for a quick fix to shed a few pounds, and I'm somewhat embarrassed to admit I tried every diet out there. It took years to realize simplicity is best for me: eat real food, drink water, move my body and get a good night's sleep.
Four years ago, when I joined the Alberta Health Services (AHS), I found myself working at a desk for the first time. This was an unexpected obstacle. The shift to being sedentary for most of my day made me sluggish and my energy dipped dramatically by mid-afternoon. I found it harder to focus, harder to sleep and I ate sugary snacks and drank more coffee to compensate. I struggled through daily headaches and back pain. Two years ago, I suffered micro tears in my Achilles tendons, and I couldn't walk without pain.
I had lost my balance and knew it was time for change. I had to be conscious of wellness at work and bring the focus of wellness to my entire day. After physiotherapy repaired my Achilles, I started going for walks at lunch with a coworker. I tried to fit more activity into my day by getting up from my computer more frequently -- walking the long way to the bathroom and getting up to ask a question rather than sending an email. I started wearing a fitness tracker and challenged myself to increase my step count. It's amazing how little changes can add up to big ones. I often put other people's needs before mine, and thought it was selfish to make myself a priority. Now I remember the wisdom I hear during safety briefings on airplanes — I need to put on my own oxygen mask before assisting others.
When I was asked if I'd like to become an AHS Wellness Champion, I jumped at the opportunity. I'm grateful for the full support of my team lead as I truly enjoy organizing Wellness initiatives. They incorporate a bit of fun and creativity into our work culture. I run a yearly Spring into Fitness Challenge in March, and a '12 Days of Wellness Campaign' in December. This year I also organized a Fall Step Challenge
I'm so proud of our daily meditation practice. We book a meeting room daily for 10-15 minutes and listen to an app that guides us through a beginner meditation. Participants tell me they're more focused and able to accomplish more. They feel calmer, more creative, and better prepared to deal with challenges and changes at work and home.
To kick off the AHS 'What's Your Balance Campaign', we organized a potluck salad bar on our floor, which we set up like a buffet. I asked everyone who was able, to contribute one ingredient. It was such a hit – we're making it a monthly event! Eating healthy is more fun when we do it together.
Now that my own "oxygen mask" is firmly in place, I find joy in helping my coworkers find their balance too.
Join the conversation, and be inspired to think about your wellness!
Share what balance looks like to you, using #AHSwhatsyourbalance on social media. Or visit www.ahs.ca/whatsyourbalance to download the Wellness Scorecard to get started on your path to finding balance.
Please note the 'What' your balance?' blog posts are views of the authors only, and should not be considered as formal advice and instruction. Readers should consult with appropriate health professionals or dial 811 for Health Link on any matter related to their health and wellbeing.